Halloween brings so many opportunities for fun events that call for fun treats for the kids. My rice krispie treat pumpkins are both cute and a tiny bit spooky with the marshmallow webs and the chocolate spiders with red eyes… little ones won't be too afraid to eat it and older kids won't think it's too babyish. And with some assistance, it's not too difficult for the kids to help create their own spooktacular treat!
Happy Halloween!
If you receive this post via email you will need to go to my website to view the video
Spooky Spider Krispie Treats
Ingredients
Pumpkin Krispie Treats
6 cups puffed rice cereal (such as Rice-Krispies)
3 tablespoons butter or vegan margarine
10 ounces marshmallows
Orange gel food coloring
Non-stick cooking spray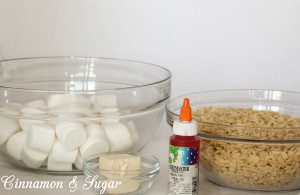 Stems
10 – 12 Tootsie Roll Midgees
Spiders
1/4 cup semi-sweet chocolate chips
10 – 12 brown M & M candies
20 – 24 red nonpareils (tiny red candies)
Webs
1 cup mini-marshmallows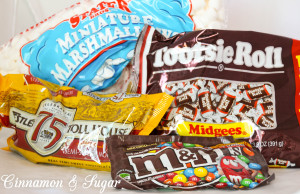 Instructions
Pumpkin Krispie Treats
Measure out 6 cups of rice cereal and set aside.
Place marshmallows and butter in a very large microwave-proof bowl.
Heat the marshmallow mixture for 2 minutes on high in the microwave. Stir mixture.
Heat an additional 1 minute then remove from microwave.
Add a generous amount of orange gel (about 1 – 2 teaspoons) to the melted marshmallows and vigorously stir to incorporate.
Add more food coloring until desired shade is reached. You will want the orange to be a bit darker than you want your pumpkins since the rice cereal will lighten it up.
Add the rice cereal and stir until thoroughly coated with the marshmallow mixture.
Spray your extremely clean hands with the non-stick cooking spray and form krispie treat mixture into pumpkin shapes, using approximately 3/4 cup cereal mixture for each pumpkin.
Set the pumpkins aside.
Stems
Use 1 Tootsie Roll Midgee for each pumpkin. Roll the Midgee into desired long round shapes, keeping the bottom larger than the top.
Put the large end onto the top of the pumpkin and press to adhere. Repeat with remaining Tootsie Rolls and pumpkins.
Spiders
Melt the semi-sweet chocolate chips in a microwave-safe bowl for 45 seconds on high heat. Stir.
If needed, return chocolate to microwave and heat in additional 10 second increments, stirring each time until chocolate is completely smooth.
Place melted chocolate into a plastic, disposable pastry bag or a heavy-duty ziplock bag. Snip a small hole into the pastry bag or a corner of the ziplock bag.
Squeeze a small amount of melted chocolate into a very small circle (the size of a large pencil eraser) and then pipe 8 legs attached to the circle.
Attach the M & M to the center.
Using a toothpick, place a tiny amount of melted chocolate onto 2 spots on the top edge of the M & M and attach a red nonpareil onto each spot for the eyes.
Repeat with the remaining M & Ms.
Place the candy spiders in the refrigerator to set while you make the webs.
Set the remaining melted chocolate aside since you will need to use it to attach the spiders to the pumpkins.
Webs
Place 1 cup mini-marshmallows into a microwave-proof bowl.
Heat in the microwave on high for 15 seconds. Remove and stir.
Working with 1 pumpkin at a time, dip your very clean thumb and forefinger into the melted marshmallows and pull a small amount out.
Stretch your fingers apart to create strands of "web" marshmallows and drape over the pumpkin.
Repeat until you have as many webs as desired.
If the melted marshmallows begin cooling too much and don't create webs, reheat in the microwave 5 – 7 seconds. Stir and begin web making again.
Once you have as many webs covering your pumpkin as you wish, remove spiders from refrigerator.
Reheat the remaining melted chocolate in the microwave for 10 seconds (keep chocolate in the pastry bag or ziplock bag).
Remove and "massage" the chocolate to distribute heat and soften. If it's still very stiff, reheat in 5 – 7 second intervals until pliable.
Squeeze a small amount of the re-melted chocolate on the back side of a spider and attach as desired to the web covered pumpkin.
Repeat with remaining spiders and pumpkins.
Allow pumpkins to set for an hour or so before serving.