Autumn is my favorite time of the year. Typically in Southern California (and unfortunately this has NOT been a typical year!) the air is cool and crisp while the sun still provides some warmth. I love the rich flavors autumn brings as well with warming spices such as cinnamon, which pairs perfectly with pumpkin and apples. The best of autumn harvests….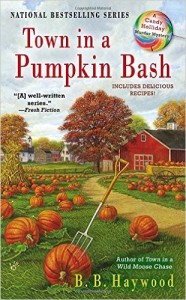 As my mind turns towards cooler weather and autumn foods, I was happy to discover that numerous authors also follow the trends of the seasons. I recently picked up TOWN IN A PUMPKIN BASH by B.B. Haywood, which is the fourth book in the Candy Holliday Murder Mystery series. I was immediately transported to the small town of Cape Willington, Maine which is preparing for the annual Halloween pumpkin bash festival. Candy Holliday works for the local newspaper but agrees to help her best friend, Maggie, run a pumpkin patch which in turn helps out an elderly farmer keep the pumpkins from going to waste.
Candy and Maggie also offer a Pumpkin Hollow Haunted Hayride for their customers with a few fun and spooky things set up along the ride. Just as they are getting ready to start their tour a man, who only introduces himself as T.J., joins the group. As they enter their "graveyard" to check out the headstones they find someone has left a real dead body lying there…and it becomes apparent that the person was murdered.
It doesn't take long for Candy to find that the murder victim, Sebastian Quinn, was the same man who was supposed to meet with them that morning to rent a supposedly "haunted" house. To add to the haunt factor, they found his dead body in the same location where an unsolved and unnamed murder victim was found twenty years previous. Being a reporter, Candy is pulled into wanting to find out what happened to both Sebastian and the unknown murder victim. On top of that, T.J. turns out to be trying to lure her into finding an old diary missing from a prominent family. It's up to Candy to find the threads that tie an old diary, an unsolved murder, and the dead body in her pumpkin patch together before another innocent person becomes the next target.
Even though I haven't read any of the previous books in this series this was still a very enjoyable book. It was easy to get to know the characters and a bit of their back stories without getting confused. There are a lot of twists and turns in the plot that kept me guessing and turning pages long after I should have been asleep… The author also has a "mystery" running through the series of books which intrigues me and I will certainly be reading them to find out more about the story.
I enjoyed this book not only for it's ability to keep me guessing but also for providing the ambiance to celebrate the season with the story along with several yummy pumpkin recipes! It was hard to decide which one to make and share but in the end Holly Holliday's Pumpkin Chocolate Chip Bread won me over with the addition of chocolate chips to a traditional autumn quick bread. This bread is amazingly tender and full of creamy bittersweet chocolate chips and crunchy walnuts with a hint of seasonal warming spices. The perfect way to welcome fall!
Thank you to B.B. Haywood for allowing me to share Holly Holliday's Pumpkin Chocolate Chip Bread recipe!
I have also provided a quick video tutorial on how to make this incredibly yummy bread so make sure to scroll all the way to the bottom of the page to view.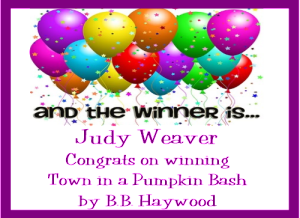 As a bonus for my readers, I'm giving away a copy of TOWN IN A PUMPKIN BASH. Please comment below and one lucky winner will be randomly chosen. Contest ends Thursday, October 8th at 11:59 pm. Winner will be announced on this page and on Cinnamon & Sugar's Facebook page, as well as notified by email (so check your spam folder!) Open to U.S. residents only.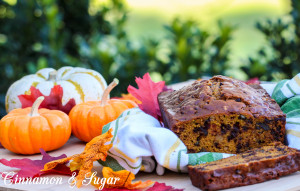 Holly Holliday's Pumpkin Chocolate Chip Bread
Ingredients
1-1/2 cups all-purpose flour
1/2 cup granulated sugar
1/2 cup brown sugar
1 teaspoon baking soda
1 cup pumpkin, fresh or canned
1/2 cup vegetable oil
2 eggs
1/4 cup water or milk
1/4 teaspoon nutmeg
1/2 teaspoon cinnamon
1 cup chocolate chips
1/2 cup walnuts, chopped (optional)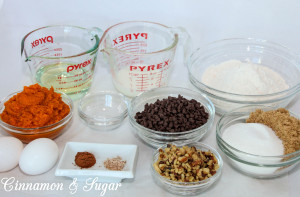 Instructions
Preheat the oven to 350 degrees.
Mix together the flour, sugars, and baking soda.
In a second bowl, mix the pumpkin, oil, eggs, water, and spices together.
Combine the pumpkin mixture with the dry flour mixture.
Add the chocolate chips and nuts.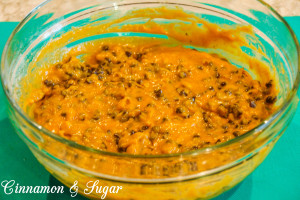 Pour into a well-buttered loaf pan.
Bake for 50 – 60 minutes until a toothpick poked into the center comes out clean.
Take out of pan and cool on a rack or board.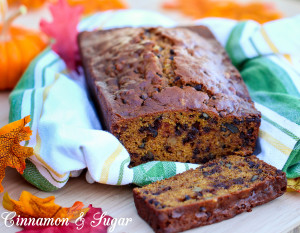 Holly Holliday made this bread for Candy's birthday every year. Happy 40th birthday, Candy!
Be sure to subscribe for email delivery of my recipes, video tutorials and giveaway opportunities! I promise to send no more than two emails per week.