Halloween brings a huge variety of treats but unfortunately, for me, the majority of them are not gluten-free. When I came across the recipe for Jewel Bay Critter Crunch in BUTTER OFF DEAD by Leslie Budewitz I was very happy…a sweet treat that's not only gluten-free but super easy to make. In fact, her addition of chocolate made it the best caramel corn I've had! Of course with the spooky holiday right around the corner I added a twist to make Jewel Bay Critter Crunch more festive (see video and tips). Either way, this treat will become one of my go-to recipes for years to come!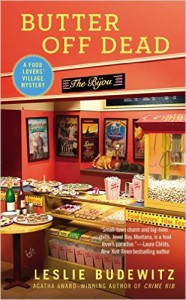 In addition to providing delicious recipes, Leslie Budewitz writes a very intriguing cozy mystery. Erin Murphy runs the Merc, her family's century old grocery store recently turned gourmet food store in Jewel Bay, Montana. The town relies heavily on tourists to make a living and usually Erin is busy organizing a festival to bring them in. This time, however, she's only the "go-fer" for her brother's ex-girlfriend, Christine Vandeberg, who is organizing the First Annual Food Lovers' Film Festival. They plan on showing food-themed movies and serving food that celebrates the chosen movies.
Just days before the festival is to begin, Christine is found murdered in her home. Suspicions quickly land on her ex-boyfriend, Nick, who happens to be Erin's brother. He won't tell anyone his whereabouts during the time she was shot, which only increases the belief that he is guilty. Erin knows that even though Nick is hiding something, he is innocent of murder and sets about to clear his name. However, she soon finds out that there are quite a few people who might be capable of going to extreme levels to keep their secrets from being exposed and she must find the culprit before they strike again. In addition to the turmoil her family experiences from the possible murder charges facing Nick, Erin is plunged back into piecing together new clues on how her father died while she was still in high school with the hopes of finding comfort in finally finding out the truth about the terrible tragedy. And all the while Erin must fill Christine's position and keep the Food Lovers' Film Festival on track to open.
I enjoyed revisiting Jewel Bay and it's townspeople in this latest release in the Food Lovers' Village series. The author gives us greater insight into Erin and her family's dynamics and allows them to grow and experience life in a realistic manner. Besides the relationships, Leslie provides lots of twists and turns to the plot and kept me guessing the entire book. I will be cooking up another batch of Jewel Bay Critter Crunch and waiting with great anticipation for the next installment in this series!
A special thank you to Leslie for allowing me to share her oh so yummy caramel corn recipe with you!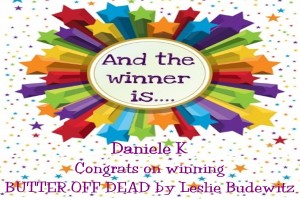 As a bonus for my readers I am offering a copy of BUTTER OFF DEAD by Leslie Budewitz. Please comment below for a chance to win. Contest ends Thursday, October 29nd at 11:59 pm PST. Winner will be announced on this page and on Cinnamon & Sugar's Facebook page, as well as notified by email (so check your spam folder!) and will have 5 days to respond or another winner will be chosen. Open to U.S. residents only.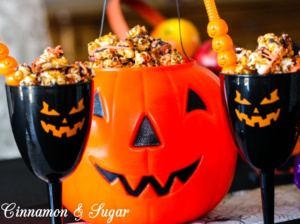 Jewel Bay Critter Crunch
Ingredients
8 cups plain, popped popcorn (if you're using an air popper, this is about 1 cup of raw kernels.)
1/2 cup raw, unsalted peanuts
1/2 cup raw, unsalted almonds
6 tablespoons butter
3 tablespoons light (clear) corn syrup
3/4 cup brown sugar
1/4 teaspoon vanilla
1/4 teaspoon baking soda
1 cup semisweet chocolate chips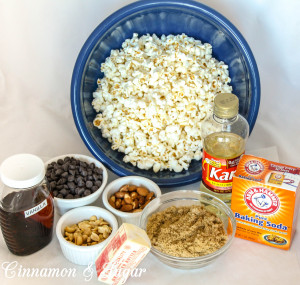 Instructions
Preheat oven to 300 degrees.
Spray or grease a baking sheet.
Pluck all the old maids (the unpopped kernels) and skins from popcorn and pour popcorn into a bowl.
Add nuts and stir to mix.
To make caramel, combine butter, corn syrup, and brown sugar in a small saucepan over medium heat.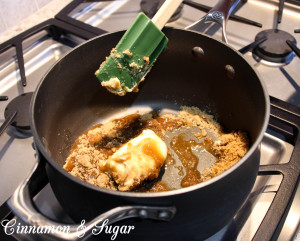 Cook and stir until mixture boils.
Continue cooking at a low boil for 4 minutes.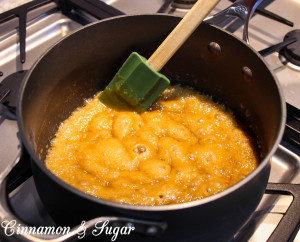 Remove from heat and stir in vanilla and baking soda.
Pour caramel mixture over popcorn and stir to coat.
Spread onto greased cookie sheet and bake for 10 – 15 minutes (10 for chewy, 15 for crunchy).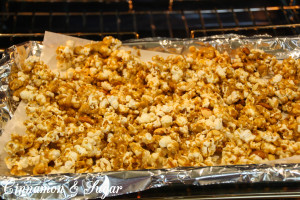 Remove from oven and add the chocolate chips.
Stir slightly, until the chocolate begins to melt.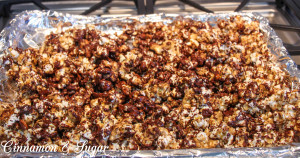 Cool and eat.
Makes about 8 cups.
Tips
I used pre-popped bagged popcorn such as SkinnyPop. It made this yummy treat come together very quickly.
I lined my baking sheet with heavy-duty aluminum foil and topped with a piece of parchment paper for easy clean up.
For festive looking Halloween Jewel Bay Critter Crunch treats, substitute 1/2 cup of the chocolate chips for white chocolate chips colored orange (be sure to use an OIL based food coloring so the chocolate won't clump!) or use orange-colored candy melts. Melt the semi-sweet chocolate chips (30 seconds in the microwave, stir, then heat in 10 second intervals until fully melted) and drizzle over cooled caramel corn. Melt the orange-colored white chocolate or candy melts and drizzle. Allow the chocolate to cool and set before eating…if you can wait that long!
If you receive this post via email, you will need to visit my website to view the video.