When the weather changes from summery heat to the cool, crisp days of autumn, I start being drawn to warming, hearty meals like stews. My husband, Dan, could eat stews year round even when temperatures are close to triple digits! So this summer when I started reading the book, LADLE TO THE GRAVE (A Soup Lover's Mystery) by Connie Archer, he was very happy to hear that a soup or stew was in his future.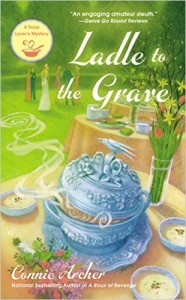 LADLE TO THE GRAVE is the story of Lucky Jamieson who owns and runs By the Spoonful, a soup restaurant in Snowflake, Vermont. When one of the town's women drops dead after drinking May wine while celebrating Beltane Eve, Lucky's grandfather, Jack, becomes an immediate suspect for accidentally poisoning the wine. Jack doesn't have a mean bone in his body but he did pick the herbs that the wine was brewed with. Even though Jack is getting on in years and worries he made a mistake, Lucky knows her grandfather could not have given the women poisonous herbs. Jack also suffers from post traumatic syndrome and when the stress of the death sends him into a downward spiral, Lucky takes it upon herself to find out who murdered the woman.
In addition to trying to find the murderer, Lucky is in the midst of helping her best friend, Sophie, plan her wedding to By the Spoonful's chef, Sage DuBois. To thank Lucky for all her help, Sophie takes her to visit her family's property in the mountains. But instead of a relaxing girls' getaway, they find a unidentifiable dead body, which could be Sophie's estranged brother. The police begin taking an interest in Sophie since she has a strong motive for wanting her brother permanently out of the picture. Now Lucky has two people dear to her that need to have their names cleared and she races against the clock to make sure Sophie will be able to walk down the aisle to wed Sage.
I enjoyed Ladle to the Grave very much and am happy that there are three previous books in the series I haven't read yet! Even if you don't start with the very first one in the series, the Soup Lover's Mystery series are easily read as a stand-alone. In addition to a great story with twists in the plot, Ms. Archer provides a variety of recipes along with one for May wine. My husband loved the Sausage and Vegetable Stew recipe I made! There was plenty of sausage to satisfy him and enough vegetables to suit my taste as well. I will certainly be making this stew again and loved the fact that it was great as leftovers for a few days.
Thank you to Connie Archer for providing a wonderful story and a comforting stew recipe and allowing me to share!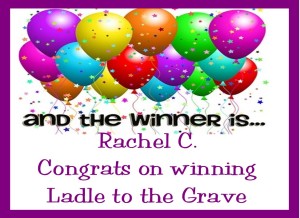 As a bonus for my readers, I'm giving away a copy of LADLE TO THE GRAVE. Please comment below and one lucky winner will be randomly chosen. Contest ends Wednesday, September 16, 2015 at 11:59 pm. Winner will be announced on this page and on Cinnamon & Sugar's Facebook page, as well as notified by email (so check your spam folder!) Open to U.S. residents only.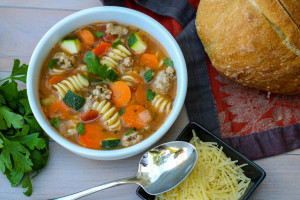 Sausage Vegetable Stew
Ingredients
Vegetable oil cooking spray
4 sausages or 3/4 pound of bulk sausage meat (I used Italian sausage with great results!)
1/2 onion, chopped
3 cups vegetable or chicken broth
1 14-ounce can diced or crushed Italian style tomatoes
3 carrots, peeled and sliced
1 zucchini, chopped
1 teaspoon basil
1 teaspoon oregano
1 dash nutmeg
1 cup chopped fresh parsley
1 cup rotini pasta, uncooked (use gluten-free pasta if desired)
Salt and pepper to taste
1/4 cup grated cheese (I used Parmesan)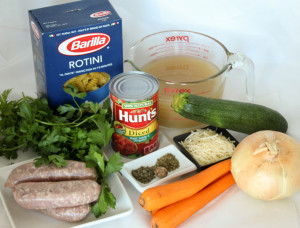 Instructions
Spray a large pot with cooking oil.
If using sausages, remove meat from casing, and saute in pot with chopped onion. Cook until onion is tender.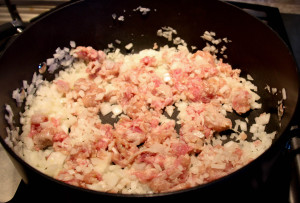 Add vegetable broth and diced or crushed tomatoes.
Add sliced carrots and chopped zucchini.
Add basil, oregano, nutmeg and parsley.
Cook on medium heat for 10 – 15 minutes until carrots are tender.
Add uncooked pasta, bring to a boil, then reduce heat and simmer for 10 minutes until pasta is cooked.
If soup is too thick, add a small amount of water for desired consistency.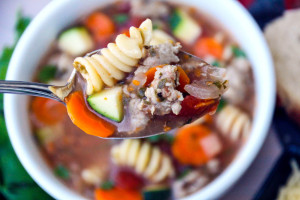 Add salt and pepper to taste.
Serve and sprinkle each bowl with grated cheese.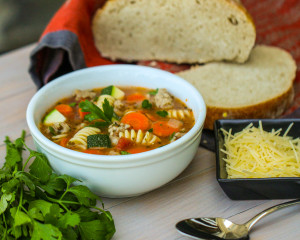 This stew is absolutely delicious served with my crusty NO-KNEAD rustic bread! See my recipe at http://goo.gl/pF0VJY
Be sure to sign up to have giveaway offers and recipes delivered to your email address! I promise I won't send out more than two per week.