Years ago before my granddaughters were born, I had the lovely opportunity to spend several days in Connecticut with my dear cousin, Mary, during autumn when the leaves were changing. Sunshine warming our faces in the crisp air, we enjoyed the quaint New England town and it's spectacular scenery. Apples had recently been harvested and small roadside stands were in abundance offering just about any apple product you could think of. My most memorable apple treats were the small apple fritters that just about every produce stand offered. Cinnamon-y apples encased in a light dough then deep fried and tossed in a vanilla glaze…I can still taste them! Unfortunately, I haven't found anything even coming close to resembling those delightful fritters once I returned home. That being said, when I saw recipes for apple fritter quick bread all over the internet I knew I wanted to make it with the hopes of capturing some of those tasteful memories without having to utilize a deep-fryer…of which I don't own.
My family and test tasters gave my version high marks! Lots of cinnamon and vanilla flavors that melded nicely with tart apples. The quick bread stayed moist and flavorful with it's layers of apples, brown sugar and cinnamon, while the glaze created a slightly crunchy topping reminiscent of the deep-fried apple fritters. The bread comes together quickly and uses pantry staples which I like since I can throw it together at a moment's notice. It is also easy to adapt for dairy-free diets.
Enjoy and happy autumn!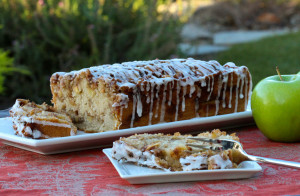 Cinnamon Apple Fritter Bread
Ingredients
Bread
1/3 cup light brown sugar
2-1/2 teaspoons ground cinnamon, divided
1/4 teaspoon fresh grated nutmeg
2/3 cup + 2 tablespoons granulated sugar, divided
1/2 cup butter or vegan stick margarine, room temperature
2 eggs, room temperature
2 teaspoons vanilla extract
1-1/2 cups (7.5 ounces) all-purpose flour
1/2 teaspoon salt
1-1/2 teaspoons baking powder
1/2 cup whole milk or non-dairy milk (I used coconut milk)
2 apples, peeled, cored and chopped
Icing Glaze
3/4 cup confectioner's sugar
1/2 teaspoon vanilla extract
1 tablespoon whole milk or non-dairy milk (I used coconut milk)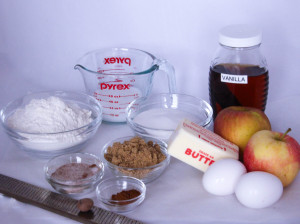 Instructions
Preheat oven to 350 degrees (F)
Spritz a 9″x5″ loaf pan with non-stick cooking spray that contains flour, or dust the pan with all-purpose flour after spritzing with regular non-stick cooking spray.
Mix 2 tablespoons granulated sugar with 1 teaspoon cinnamon and toss with chopped apples. Set aside.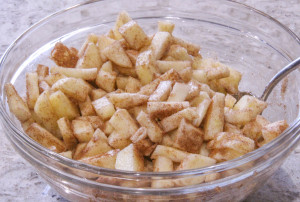 In a small bowl, mix the brown sugar with the nutmeg and 1 teaspoon ground cinnamon. Reserve for later.
In a medium-sized bowl, whisk flour, baking powder, salt and 1/2 teaspoon cinnamon together. Set aside.
In the bowl of a standing mixer beat the butter (or vegan margarine) with 2/3 cup granulated sugar on medium speed until light and fluffy, 2 – 3 minutes.
Add eggs, one at a time, and beat until incorporated each time.
Mix in the vanilla.
Add the flour mixture to the sugar and egg mixture and stir until blended on low speed.
Add the milk to the batter and stir just until it is completely incorporated.
Drain any liquid off the apple and cinnamon mixture, discarding liquid.
Pour half the batter into the bread pan and top with half the apple mixture. Sprinkle half the brown sugar and cinnamon mixture on top of the apples.
Pour remaining batter into the pan, spreading over apples and cinnamon mixture, then repeat adding the remaining apples and remaining brown sugar mixture.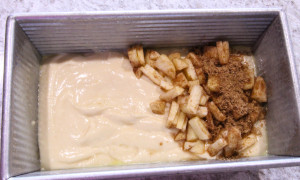 Pat the brown sugar and cinnamon mixture down on top of the batter then using a butter knife, swirl the brown sugar mixture through the batter.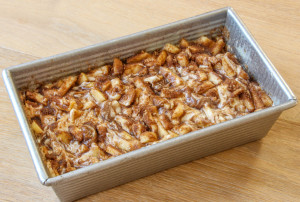 Bake at 350 degrees for approximately 50 – 60 minutes. Bread should be golden brown and feel fairly firm to the touch. A wooden skewer inserted into the center of the bread should come out without any doughy batter clinging to it. Be aware that the apples may cling to the skewer making it seem that the bread might not be done, so use the touch test as well.
Allow the bread to cool in the pan for 15 minutes. Invert bread onto a plate and then transfer to a serving platter right side up.
While the bread is cooling in the pan, whisk the confectioners' sugar, vanilla and milk together until the icing glaze is smooth.
Drizzle over the warm bread once you have transferred it to a serving platter.
Let the bread cool until it is just warm before slicing with a bread knife.