Cinco de Mayo, while not one of the big holidays, holds a special place in my heart. It was at a Cinco de Mayo party that I met my husband twenty years ago today. He caught my attention when he told me, with self-deprecating humor, that he loved my spicy enchiladas because they were helping his allergies by making his nose run. Romantic? No! Honest and funny? You bet! It was enough to make me give him a chance when he asked me out. We've been together ever since!
Growing up, Mexican food was on our dinner table frequently. My dad grew jalapeno peppers, pickled them himself and then served them with most dinners. One of my favorite dishes my mother served was Chiles Rellenos Casserole. Deliciously cheesy, mildly spicy (unless my mom forgot to remove the seeds from the peppers or my dad slipped some jalapenos in,) and incredibly simple to put together, bake and get to the table in under an hour. Chiles Rellanos Casserole is a staple dish in our household and I hope you enjoy it as much as I have over the years!
Chiles Rellanos Casserole
1 cup half & half
1/2 cup flour
2 eggs, lightly beaten
8 ounces Monterrey Jack Cheese, grated
8 ounces Cheddar Cheese, grated
1- 10 ounce can Ortega whole green chilies
1 – 4 ounce can Ortega chopped green chilies
5 ounces canned tomato sauce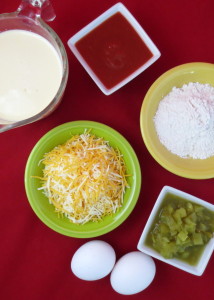 Preheat oven to 350 degrees.
Wash chilies, remove seeds and cut each piece into thirds lengthwise.
Place flour into a medium sized bowl.
Whisk Half & Half and eggs together then slowly whisk into the flour.
Mix chopped chilies into the egg mixture.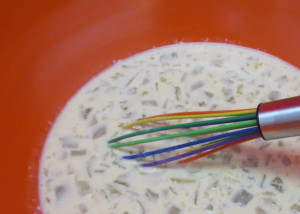 In a greased 8 x 8 baking dish layer half of the chilies, top with half the egg mixture and half of the cheese. You can be approximate in dividing the ingredients.
Repeat with remaining chilies and egg mixture then spread tomato sauce over layers.
Top with remaining cheese.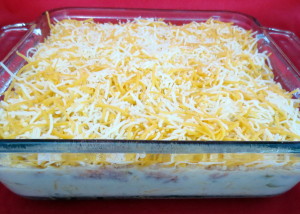 Bake uncovered 40 – 45 minutes until it begins to brown or until internal temperature reaches at least 165 degrees in the center of the casserole.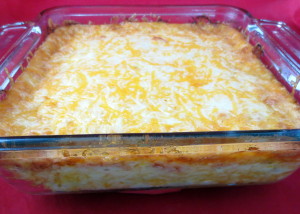 Let rest ten minutes before serving.
Garnish with sour cream and your favorite salsa.
Recipe can be doubled and baked in a 9×13 casserole dish.