Don't be put off by the word vegan… these are incredibly delicious, super moist lemon cupcakes…just without the eggs and dairy.  To quote my taste tester, "there's a wonderful subtlety to the lemon flavor and sweetness…"
Years ago, when my husband developed his dairy intolerance, the only commercial option for dairy that I could find was soy and he didn't like that at all.  And Pinterest hadn't been born yet and vegan wasn't mainstream.  He learned to do without desserts and then all of a sudden there were a lot more choices and a lot more recipes to try.  And we made friends with a committed vegan who pointed me in the right direction (and is one of my core taste testers.)  As I became more experienced and confident cooking without dairy and eggs I've found that I prefer the texture and moistness of vegan cupcakes over regular recipes. Although it was a hard lesson the first time I made a vegan stacked and carved cake…without the structure of the egg, it completely collapsed on me beneath the weight of the icing and fondant right before the birthday party!
I hope you enjoy my vegan lemon cupcakes as much as we have!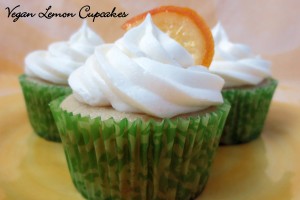 Vegan Lemon Cupcakes
Ingredients
Cupcakes
1 cup milk (coconut, soy, almond, rice – or 2% regular milk if dairy isn't an issue)
1 teaspoon apple cider vinegar
1-1/2 cups (7.5 ounces) flour (scoop and level method)
1/2 teaspoon baking powder
3/4 teaspoon baking soda
1/2 teaspoon salt
1/4 cup vegetable oil
2/3 cup sugar
1 teaspoon vanilla extract
1/4 cup fresh lemon juice
1 tablespoon lemon zest
Icing
1 pound (16 ounces) confectioner's sugar
2 teaspoons vanilla extract
1/2 cup (1 stick) vegan buttery sticks, such as Earth Balance
3 tablespoons fresh lemon juice
1/4 teaspoon lemon oil (optional)
Garnish
Candied lemon slices
Instructions
Cupcakes
Preheat oven to 350 degrees.
Line a muffin pan with paper liners and lightly spritz with cooking spray.
In a medium-sized bowl, stir the apple cider vinegar into your choice of milk. Set aside while you collect the rest of your ingredients.
In a large bowl, whisk the flour, salt, baking soda and baking powder together and set aside.
Measure and add the vegetable oil, sugar, vanilla, lemon juice and zest to the bowl of milk. Whisk until incorporated.
Add the wet ingredients to the flour mixture and stir just until combined.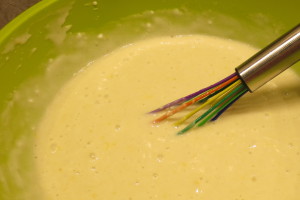 Scoop batter into the paper lined muffin pan, filling no more than 3/4 full.  I like using a spring-loaded 2 tablespoon cookie scoop for this.
Bake 15 – 17 minutes. A wooden skewer inserted into the center of the cupcake should come out clean.
Remove from oven and cool in muffin pan 5 minutes then remove cupcakes to a wire rack.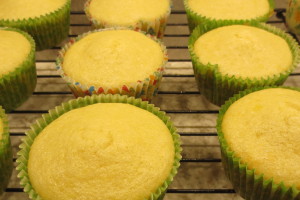 Let cool completely before icing.
Icing
Place vegan margarine and 1-1/2 cups confectioner's sugar into a large bowl.
Beat with an electric mixer until creamy, about 2 minutes on medium-low speed.
Add vanilla, lemon juice and lemon oil (if using) and beat until incorporated.
Add remaining confectioner's sugar and beat until creamy and fluffy, about 3 – 4 minutes.
If icing seems too thick, add additional lemon juice 1/2 teaspoon at a time until desired consistency is reached.
Fill a pastry-decorating bag, fitted with a large star tip, with the icing and pipe large swirls on top of the cupcakes.
Garnish with candied lemon slices if desired.
Tips
If you have extra batter for just a couple cupcakes and don't want to use a full-sized muffin pan, I like having individual silicon baking cups on hand.  Simply fill as directed above, place silicon cups on a small baking tray and bake at the same time as your other cupcakes.
When you have an abundance of lemons, juice and zest them, then freeze in 1/2 cup, 1/4 cup and tablespoon increments.  Simply defrost in the microwave when needed.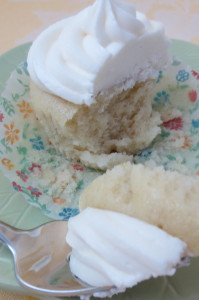 Okay, I'm going to show you my "blooper" using vegan cake for a stacked and carved cake….  After I cried a bit my husband dried my tears and titled the cake.  I was able to giggle and take the cake to the party.  It tasted delicious and no one cared a bit!