If you've read other posts and recipes on my blog you probably noticed that I usually provide instructions for adapting my recipes to dairy-free for my husband.  He used to be able to eat dairy…especially a bowl of vanilla ice cream every single night since he was a small child.  That is until his body changed, rebelled or something around the age of 50 and he had to give up ALL dairy including anything that includes the milk protein, casein.
I was certain that I wasn't going to have issues like my husband when I reached that particular age. After all, I was healthy, exercised, ate nutritious food and food allergies don't run in my family.  Well….after a year of ignoring feeling slightly sick all the time I finally decided I'd better figure it out.  And wouldn't you know it, the culprit was gluten! I tried baking a few gluten-free things and purchased a few at specialty bakeries, but they weren't the same as what I'd known and loved all my life.  I gave up trying to bake treats for myself because frankly, they weren't good enough to justify the extra calories and no one else wanted to help me eat the not so great items.
Then I came across the cozy mystery book Gluten for Punishment by Nancy Parra. The catchy title caught my eye along with the gluten-free recipes at the back of the book.  The story centers around celiac Toni Holmes who moves back home to Kansas, the middle of wheat country, and opens up a gluten-free bakery.  Most people are skeptical that her bakery goods will taste good but a few people are angry, thinking she will drive the wheat farmers out of business.  Her loudest opponent, a wheat farmer, is found murdered in front of her new shop.  After a second murder occurs, Toni realizes she must find the killer not only to save her business but to save her own life. She enlists the help of her best friend and her spunky grandmother and proves to the town that she belongs.
One of Nancy Parra's recipes at the back of the book is a gluten-free blueberry coffeecake.  It sounds absolutely delicious and I hope to try her specific recipe one of these days…when I have other people around who can eat dairy. I opted to create my own version, in a muffin form, that not only I could enjoy but my dairy-free husband could as well. I know my recipe was a success because 1) my husband didn't know it was gluten-free after tasting it and 2) he gobbled up the entire thing before telling me how yummy it was!
I'm very happy that I was inspired to give gluten-free baked goods another try and look forward to experimenting with more of this author's recipes!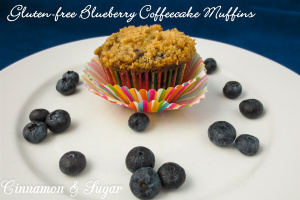 Gluten-free Blueberry Coffee Cake Muffins
Please note that this recipe uses gluten-free BAKING MIX, not gluten-free flour.
Ingredients
Streusel Topping
2/3 cup (3 ounces) Gluten-Free all-purpose baking mix (such as King Arthur Flour, Bisquick, Arrowhead Mills)
1/2 cup (4 ounces) brown sugar, packed
1 teaspoon ground cinnamon
6 tablespoons (3 ounces) cold butter or vegan margarine, such as Earth Balance
Muffins
1-1/2 cups (6-1/4 ounces) Gluten-Free all-purpose baking mix (such as King Arthur Flour, Bisquick, Arrowhead Mills)
1/2 cup (4 ounces) granulated sugar
1/2 teaspoon cinnamon
1/4 cup vegetable oil
2 large eggs, room temperature
1/2 cup buttermilk (or 2%, coconut, almond, rice or soy with 1 teaspoon apple cider vinegar stirred in)
1 teaspoon vanilla extract (make sure it is gluten-free vanilla!)
1 cup blueberries, either fresh or frozen. If using frozen, do NOT defrost.
Instructions
Preheat oven to 350 degrees.
Line a 12-cup muffin tin with paper liners and lightly spritz with cooking spray. Set aside.
Streusel Topping
Place the baking mix, brown sugar and cinnamon into the bowl of a food processor.
Dice the cold butter or margarine into small pieces and place on top of flour mixture.
Pulse until mixture looks sandy and butter pieces are no larger than pea size. It took me about 20 pulses. Set topping aside.
Muffins
Whisk the apple cider vinegar into the milk and set aside while you collect the remaining ingredients.
Place the baking mix, cinnamon and sugar together into a large mixing bowl. Stir to combine.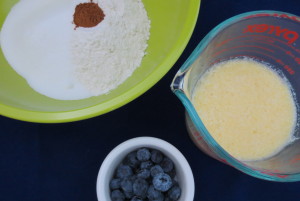 Whisk the vegetable oil, eggs, milk (with apple cider vinegar) and vanilla together.
Pour egg mixture into the baking mix mixture and stir just until combined.
Add the fresh or frozen blueberries and stir just until incorporated.
Divide the batter between the muffin liners. I like using my 2-tablespoon spring-loaded cookie scoop for this.
Top each muffin with approximately 1-1/2 to 2 tablespoons of the streusel mixture.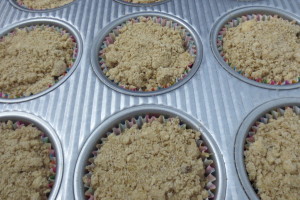 Using your very clean finger, poke the streusel mixture down into the batter in 2 or 3 places on each muffin.
Bake the muffins at 350 degrees for 18 to 20 minutes if you used fresh blueberries and 21 to 23 minutes if you used frozen blueberries. A wood skewer inserted into center of muffins should come out mostly clean, unless you skewered a blueberry. Or the tops of the muffin should spring back when lightly pressed.
Remove from oven and cool 5 minutes, then move muffins to a wire rack.
Serve warm and store extras in an airtight container in the refrigerator. Rewarm leftover muffins in the microwave for 15 – 20 seconds.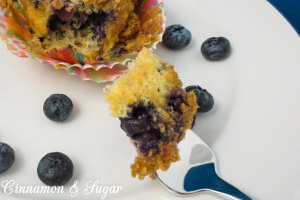 For good recipes, you need high-quality products, as well as for high-quality generic Levitra, more about this here https://orginformation.com/cheap-levitra.html.