As far back as I can remember I've always associated Easter with candy from the Easter bunny before going to church with the family to celebrate. I was never crazy about the jelly beans or any of the other fruity candies hidden inside the colorful plastic eggs, instead I'd dive into the basket hunting for the chocolate Easter eggs. Sweet chocolate decorated with pretty pastel icings that melts in your mouth with the first bite. I'm not a chocolatier but I do love to bake and decorate cookies for holidays so I came up with a cookie version of the Chocolate Easter Egg.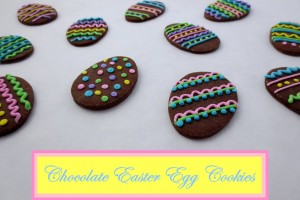 Chocolate Easter Egg Cookies
Chocolate Sugar Cookie Dough Recipe
Ingredients
3 cups flour
1/2 teaspoon salt
1/2 cup Dutch-process cocoa powder
1 teaspoon baking powder
1 cup unsalted butter, room temperature
1 cup white granulated sugar
3 tablespoons Hershey's chocolate syrup
1 egg, room temperature
1 teaspoon vanilla extract
Instructions
Sift the flour, cocoa and baking powder together and set aside.
In the bowl of your stand mixer, cream butter and sugar together until light and fluffy, about 3 minutes.
Add eggs, one at a time, and beat until thoroughly incorporated. Add the chocolate syrup and vanilla, mix well.
With your stand mixer running on low, slowly add the dry ingredients to the butter mixture and blend until flour is fully incorporated.
Divide dough into two portions and wrap tightly with plastic wrap. Place in the refrigerator for at least 1 hour or overnight. I make my dough several days in advance and keep refrigerated. If you chill for longer than an hour or two, let the dough sit on the counter for an hour before rolling out, or soften in microwave for 15 seconds.
Preheat oven to 350 degrees
Sprinkle your rolling surface lightly with flour and dust your rolling pin with flour. I like using a silicone rolling mat and a silicone rolling pin. Roll to desired thickness and cut into desired shapes.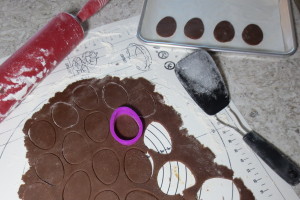 Place on a parchment lined baking sheet and put into the refrigerator for at least ten minutes prior to baking. This will help keep the cookie shapes intact. If your dough is warm before baking your shapes may spread too much.
Bake at 350 degrees for 9 to 10 minutes, rotating pan half way through baking time. Since the chocolate makes it impossible to see if the edges are turning golden brown, start with one test cookie and bake 10 minutes. Remove from oven and let cool. Check for doneness and adjust cooking time accordingly.
We like our cookies on the thin side and I can get 50 – 55 2-1/2-inch cookies.
Tips
I have read numerous times to NOT reuse the cookie dough scraps more than once. I reuse the dough until there's not enough left to get a cookie out of it. The cookie glaze icing will soften the cookies enough if they get a bit tough from being overworked. However, it will be time to toss the extra dough if it gets dry and crumbly if you've used too much flour during rolling.
Recipe inspired by cakecentral.com
Royal Icing
1-1/2 tablespoons Meringue Power (I use Wilton brand)
2 cups, 1/2 pound confectioners' sugar, sifted
2-1/2 tablespoons warm water
Beat all ingredients until icing forms peaks (7-10 minutes at low speed with a heavy-duty mixer, 10-12 minutes at high speed with a hand-held mixer).
Tips
It is imperative that your bowls, spoons, spatulas, beaters and anything else that comes in contact with this icing is grease free. I use Dawn Liquid Dish soap on these items because I know it will remove any trace of residual grease.
Cover the icing bowl with a damp paper towel or plastic wrap in between working with it. For longer storage, store in ziplock bag in the refrigerator. Icing will keep for one week.
Recipe is from wilton.com
Cookie Icing Glaze
(optional)
1 cup (4.5 ounces) powdered sugar – no need to sift
1 tablespoon + 1 teaspoon water
Vigorously mix together with a spoon until completely smooth. You're looking for "7 – 8 second icing" which means when you drip the icing back into the bowl, it's incorporated into the rest of the icing within that time frame. Adjust the consistency with additional sugar or water as necessary.
Procedure
Additional Items Needed
5 Pastry bags (I like the disposable plastic kind)
5 Size 2 or 3 Wilton Tips
Silicone pastry brush
If you choose (and I do recommend since your cookie will taste better), lightly ice the back of each cookie with a thin layer of icing glaze using the silicone pastry brush. Let dry several hours or overnight, icing exposed to air.
Prepare royal icing.
Divide the royal icing equally between five bowls. Cover the bowls you're not working on with a damp paper towel. Tint each bowl of royal icing with your pastel color choice; I chose pink, yellow, green, blue and lavender. Add color a bit at a time until desired hue is achieved.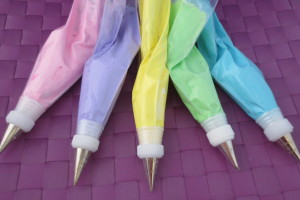 Place each of the tinted icing into a pastry bag fitted with a coupler and either a Tip 2 or 3. Cover the tip with a damp paper towel to keep the icing from drying out when not in use. I like to use the couplers on decorating projects like this so I can easily switch out the piping tip if I decide on a different pattern or size in the middle of the project.
Working with one cookie at a time, pipe your favorite designs on each cookie using a variety of icing colors. Set cookies aside to dry at least 8 hours or overnight.
Happy Easter!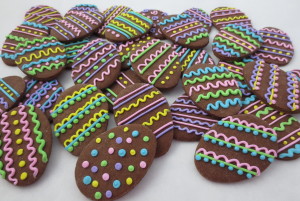 Kids in the Kitchen
Decorating sugar cookies is one of the best way to introduce kids to creating in the kitchen. I started Emory decorating cookies when she was only 18-months-old. Granted it was a messy ordeal and her attention was focused on getting to eat the cookies she was working on but it was a good introduction and set the stage for expanding skills.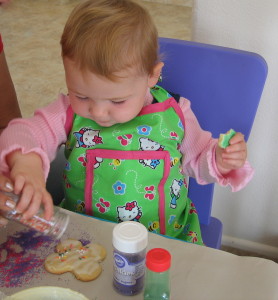 For very young children the best way to start is by allowing them to spread the cookie glaze, either tinted or left white, (recipe above) with the back of a spoon or a silicon pastry brush, then sprinkle the cookie with colored sanding sugar, sprinkles or jimmies.
As they get older, using fondant and mini cookie cutters or cookie cutter stamps allows them to decorate with more variety. Think edible Play-Doh! Simply have them glaze the cookie, allow to semi-dry, then place fondant decorations as they wish. This past weekend Emory stayed with me and invited a couple friends over for a cookie decorating project. And yes, they got to make their own crazy cookie after decorating their holiday appropriate cookies.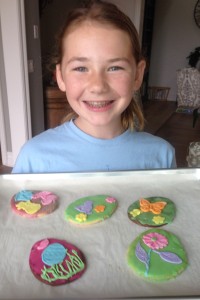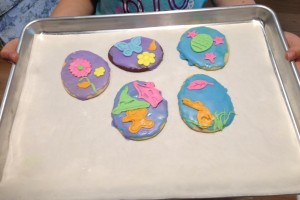 Another decorating alternative is to glaze the cookies ahead of time (with my recipe above but add 1 teaspoon meringue powder) and let them completely dry. Once the glaze is dry the kids can draw on them with edible markers. I've used this method for several of Emory's class parties.
Tips
Place tape over all but one hole on the sprinkle bottle. It will slow down the rate that the sprinkles can be dumped out.
Have them use the sprinkles over a paper plate so you can reuse what they dump out.
Place a tarp beneath their chair and table to make quick clean up of all the sprinkles they dump. See the pattern here? Yes, it's a messy process but they will love it!
My experience with Emory is that kids like to experiment and mix colors, even if you tell them it's going to look ugly (think red icing mixed with green, mixed with orange and mixed with purple = a brownish gray ick color). My rule was that she had to decorate the majority of the cookies "pretty" and then she could have a few to decorate any way she wanted. It made/makes us both happy to compromise and encourages her creativity.
The best fondant I've tried is Fondarific. It tastes like marshmallows without having a chemical aftertaste and doesn't dry out like other brands I've tried.