To be honest, I never think about baking cake for a mid-week family dessert when we have the chance to get together. I've always associated cake with birthdays and celebrations. Maybe it's because growing up my mother generally made pies, fruit cobblers or cookies served with ice cream for our family's evening desserts and saved cake for birthdays. I love to decorate cakes for my family and very close friends for special celebrations and can spend hours upon hours getting the decorations just right. But when it comes to actually baking the cake I use…gasp….a boxed mix doctored up a bit. It's quick and it's almost fool-proof. After all, cake is merely the canvas for yummy filling, frosting, decorations and candles…right?
Then I picked up Topped Chef: A Key West Food Critic Mystery by Lucy Burdette. Little did I know a cozy mystery was going to change my mind about how I viewed cake!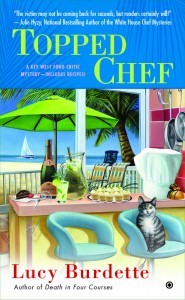 Hayley Snow is a food critic for style magazine, Key Zest, and has to give her first bad review on a local restaurant in Key West. Chef Rizzoli is extremely displeased, to say the least, and things go from bad to worse when Hayley finds herself on the same judging panel as Rizzoli for the the reality cooking show, Topped Chef. It doesn't take long for someone to murder the unpleasant, arrogant chef and her hope-to-be romantic interest, Detective Bransford, is in charge of the investigation. However, she can't help herself and begins snooping and asking questions around town. Soon she becomes a target and Hayley decides she must find the the murderer before she is the next victim.
Hayley lives on board a houseboat with her roommate, spunky but elderly Miss Gloria, and their two cats. Space is at a premium on the houseboat but Hayley manages to put together a lovely chocolate cake with no fuss, which sparked my interest. The recipe for the cake is included at the back of the book and I enjoyed finding out that this was a recipe handed down from the author's grandmother. I decided to give it a try and found it truly was just about as easy as opening a boxed mix and incredibly more delicious than going the "easy" way. The author recommends sprinkling the top of the cake with powdered sugar and then serving with ice cream…a quick and easy dessert for any night of the week. I couldn't help myself though, and had to add some chocolate glaze and chocolate leaves which elevates this quick to make cake to a special celebration cake. I was honored that Lucy Burdette allowed me to share her family recipe with you and I hope you enjoy this chocolate cake as much as we have!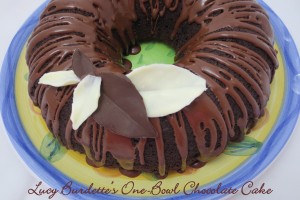 Lucy Burdette's One-Bowl Chocolate Cake
Ingredients
Cake
1/2 cup Crisco or butter
1 cup sugar
1/2 cup Hershey's cocoa
1/2 cup sour milk (or sweet, with 1 tablespoon vinegar added)
1 teaspoon vanilla
1 teaspoon baking soda
1-1/2 cups all-purpose flour
1/4 teaspoon salt
1/2 cup boiling water
Glaze
1 cup confectioner's sugar
2 tablespoons unsweetened cocoa powder
1/8 teaspoon sea salt
1-2 tablespoons milk (coconut, almond, soy, rice or 2%)
1/2 teaspoon vanilla extract
Tip
To make the cake dairy-free, use Crisco and substitute coconut, almond, rice or soy milk for the sour milk. You will still need to add the tablespoon of vinegar.
Instructions
Cake
Preheat oven to 350 degrees
Beat softened butter and sugar until well combined.
Add the other ingredients, one at a time, mixing after each.
Grease a bundt pan, add the batter and bake for about 30 minutes until cake springs back when touched.
Cool for ten minutes and then invert onto a cake plate.
You can sift powdered sugar over the top when completely cool or for a special occasion, drizzle with chocolate glaze and garnish with chocolate leaves. Either way, serve with vanilla ice cream!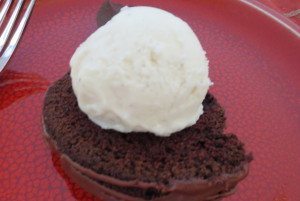 Glaze
Whisk the confectioner's sugar, cocoa powder and salt together in a medium sized bowl.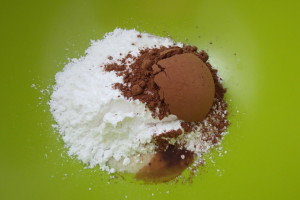 Add 1 tablespoon of the milk along with the vanilla extract.
Whisk until completely smooth.
If the mixture is too thick, add additional milk one teaspoon at a time until desired consistency is reached.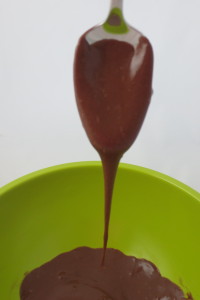 Chocolate Leaves
1 ounce dark chocolate
1 ounce white chocolate
I like using Chocoley's Bada Bing Bada Boom Chocolates, but any premium chocolate bars will do.
Impeccably clean non-poisonous leaves of varying sizes. Make sure your leaves have not been sprayed with insecticides as well.
Chop the chocolate into small pieces if you choose to use bar chocolate. Place dark chocolate into a small microwave-safe bowl and white chocolate into another bowl.
Working with one chocolate at a time, heat in the microwave for 30 seconds. Stir and heat an additional 30 seconds. Remove and stir, allowing the warm bowl to continue to melt the chocolate. If needed, heat in 10 second increments until chocolate is spreadable. You do NOT want to overheat chocolate because it will get hard and grainy.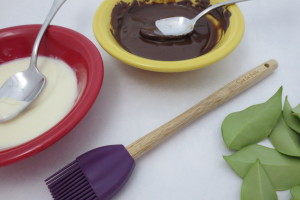 Using a silicon pastry brush or the back of a small spoon, gently spread the chocolate to the back side of the leaves. You want a fairly thin layer and try to avoid having the chocolate drip over the edges. As you cover the leaves with the melted chocolate, place them on a parchment lined tray or baking sheet then chill in the refrigerator while you work on the second bowl of chocolate. Set the first bowl aside after removing the spoon or pastry brush.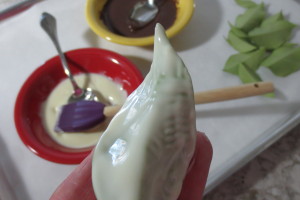 Repeat the melting and spreading process with your second bowl of chocolate, then refrigerate the leaves.
Heat the first bowl of chocolate (which should have firmed up) in the microwave in 5 second intervals, stirring each time, until it becomes spreadable. Remove the first tray of chocolate leaves from the refrigerator and apply a second coat of chocolate. I went a bit thicker with this coat. Once completed, return leaves to refrigerator.
Repeat process with the second bowl of chocolate.
Once leaves are completely firm, carefully pull the chocolate leaves from the real leaves, starting from the stem end and decorate to your heart's content!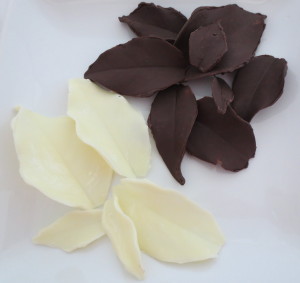 Tips
Don't allow any water or moisture to come in contact with the chocolate because it will cause the chocolate to seize and it will become unusable.
Don't overheat or it will seize.
You may flavor the chocolate using a minute amount of flavoring

OIL

, such as peppermint. Don't use an extract which contains water and will cause chocolate to seize.
I found out the hard way…wash hands after handling the dark chocolate leaves before picking up the white chocolate leaves.
If your chocolate leaf edges are rough, use the heat of your fingers to gently smooth them.