When I was a kid my mother would always make sure we had a healthy, hot breakfast.  Once I was out on my own I discovered leftover dessert for breakfast once in awhile was something to look forward to…after all, lots of people eat donuts for breakfast and that's basically a dessert, right? My go-to desserts for breakfast has always been pumpkin pie or rhubarb pie or some kind of fruit cobbler. They seemed more healthy with the fruit and vegetable or so I rationalized. However, had I had this Carrot Cake in my baking repertoire, I would have been eating dessert for breakfast a lot more often: it's got veggies, fruit, nuts and eggs for protein.  Healthy but it still tastes rich and decadent thanks to the applesauce and pineapple providing lots of moisture.  So go ahead and bake this carrot cake for dessert and indulge yourself and have the leftovers for breakfast the next morning!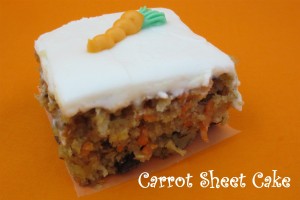 Carrot Cake
Ingredients
Cake
1 cup (8 ounces) unsweetened applesauce
1/2 cup (3.5 ounces) vegetable oil
1-1/2 cups (10.7 ounces) granulated sugar
3 eggs, room temperature
1 cup (8 ounces) Dole crushed pineapple packed in juice (don't drain!)
2 teaspoons vanilla extract
2 cups (10 ounces) all-purpose flour (scoop & level method)
1 teaspoon baking soda
1-1/2 teaspoons baking powder
1/2 teaspoon salt
2 teaspoons ground cinnamon
2 cups (9 ounces) freshly grated carrots
1 cup (2.5 ounces) shredded coconut, sweetened or unsweetened
1 cup (4 ounces) chopped walnuts
1 cup (5.3 ounces) raisins
Frosting
1/2 cup unsalted butter, room temperature
8 ounces cream cheese, room temperature
2 teaspoons vanilla
1 pound (16 ounces) confectioner's sugar
1/4 teaspoon salt
Instructions
Cake
Preheat oven to 350 degrees.
Line a 11″x15″ sheet cake pan with foil, letting foil overhang on all sides so you can easily lift cake from pan. Top the foil with a piece of parchment paper and spray parchment and foil with cooking spray.
Whisk applesauce, vegetable oil, sugar, eggs, vanilla and pineapple with it's juice together in a large bowl and set aside.
In a medium-sized bowl, whisk the flour, baking soda, baking powder, salt and cinnamon together and set aside.
In another medium-sized bowl, combine the grated carrots, coconut, walnuts and raisins together.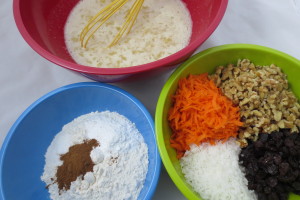 Gently mix the flour mixture into the applesauce mixture, stirring until combined.
Fold the carrot mixture into the cake batter just until incorporated.
Pour cake batter into the prepared sheet cake pan and place in oven.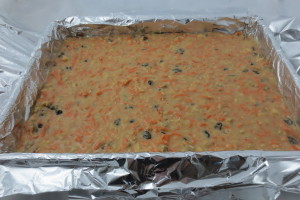 Bake 25 – 30 minutes or until wooden skewer inserted into the middle of the cake comes out mostly clean.
Let cool completely, then use the foil sling and remove cake from pan and place on a sturdy portable surface, such as cookie sheet or chopping board.
Frost and decorate the cake as desired.
Store in the refrigerator in an airtight container.
Cream Cheese Frosting
In the bowl of a standing mixer, beat the butter and cream cheese until creamy and smooth.
Slowly add the confectioner's sugar and vanilla and beat until creamy, 3 – 5 minutes.
Carrot Icing Decorations
Prepare a pastry bag fitted with a Tip 7. Before frosting the cake, remove 5 tablespoons of the cream cheese frosting, tint orange and place in the bag.
Remove an additional 3 tablespoons, tint green and place in a pastry bag fitted with a Tip 16.
Cover the cake with the remaining frosting and refrigerate for 15 minutes.
Remove cake from refrigerator and slice into 24 pieces. I like to use unflavored CLEAN dental floss to score straight cutting lines first.
Pipe 2 lines of green icing for the carrot tops on each piece. Make sure you leave room for the carrot!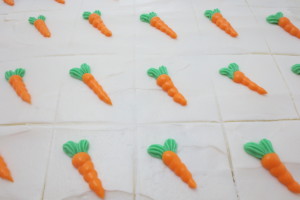 Pipe a carrot overlapping the green top, applying more pressure for the fat end of the carrot and diminishing pressure at the bottom of the carrot.
Plate and serve!