It's impossible to believe that the tiny baby girl who stole my heart is turning 13 today!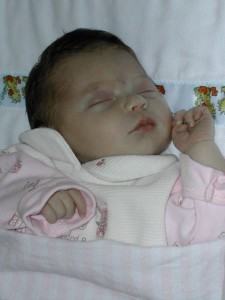 I met my granddaughter, Jaidyn, when she was just a few minutes old and instantly fell in love with her. Little did I know how she would drastically change my life…and in a very good way! I think soon-to-be parents know their lives will be changing but I hadn't given any thought about what a grandchild would mean to me.
First of all, when my step-daughter decided to go back to work, I knew I wanted to have Jaidyn two times a week. Since I don't have children of my own, being responsible for an infant all of a sudden was daunting. Thank you, Briana, for having faith in me and placing your precious daughter in my care! After a few weeks we got into a routine and all was well…until Jaidyn stopped reaching milestones around 6-months of age. Concerned, we finally got her into physical therapy and she learned to crawl and eventually walk around 17-months old. I will never forget the day that her physical therapist told me that Jaidyn was physically capable of walking and running but that something else was going on and we should probably consult her doctor. We also noticed that she didn't play with toys and speech was limited.
After many, many appointments with her neurologist and other specialists we received Jaidyn's diagnosis when she was three-years-old…Rett Syndrome. The monster that steals so much from so many little girls. If you are interested in learning more please visit RettSyndrome.org.
Despite Rett Syndrome, Jaidyn's parents have done an admirable job of raising their daughter and including her in their family activities. And me? I feel blessed to be a part of Jaidyn's life. She has taught me what unconditional love means and inspired me to grow into a less self-centered person. And because of Jaidyn, I found my passion in life (aside from Jaidyn and Emory of course!)….baking, decorating, creating. Never in a million years did I think I had any creativity living in me until Briana asked me to make Jaidyn's first birthday cake…and then I was hooked!
Of course now that Jaidyn is older and has learned to communicate using an iPad app and PECS (picture exchange communication system) I know that Jaidyn loves cookies over cake, but she still wants a birthday cake as well. So in honor of her birthday I bake and decorate cookies for her class and cake for her family celebration. Every year, starting in January, I begin asking Jaidyn what she wants her cookies and cake theme to be. And trust me, even though she can't talk, she knows exactly what it is she wants. This year she wanted butterflies. Not pastel, little girl fluff. She wanted bold, bright, teenage butterfly cookies. I found pictures on Pinterest, had her choose and created from there. I'm sharing the butterfly cookies with you today and will post about her birthday cake next week since I'm still trying to finish it up 🙂
So happy 13th birthday to my sweet Jaidyn!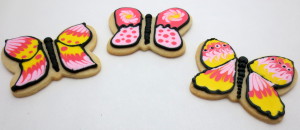 Butterfly Cookies for Jaidyn
Start with your favorite sugar cookie dough recipe or you can use mine: WaWa's Sugar Cookies.
Cut out the dough using butterfly cutters.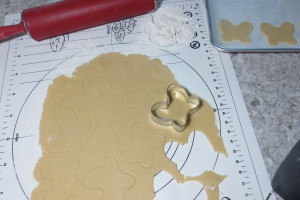 Mix and color Royal Icing. Decide on your outline color(s) and place thick royal icing in a piping bag(s) fitted with tip 3. Color and thin the remaining icing to 7-second icing. You can see my detailed tutorial here.
Outline the butterfly cookies with the thick icing.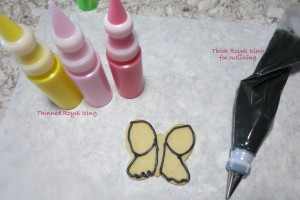 Using the thinned royal icing fill in the wings.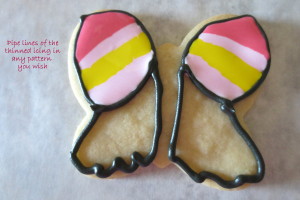 Immediately use a wooden skewer to drag through the colors, creating patterns as you wish. Wipe the skewer off with each swipe to keep the colors clean.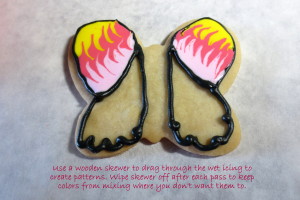 Set the cookies aside to dry, then add any embellishments with stiff royal icing.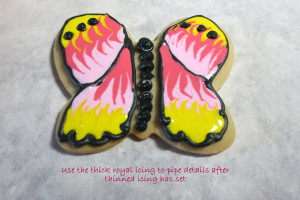 Cookies will keep up to one week if placed in an airtight container and stored in a cool, dry environment. Enjoy!