We had a busy weekend, starting with celebrating Jaidyn's 13th birthday (I can't believe we have a teenage granddaughter already!!!) on Friday evening and then celebrating the first birthday of my great-niece, Scarlett Grace…and of course I couldn't pass up the opportunity to bake and decorate birthday cakes for these two very special girls!
If you've followed my blog at all you know by now that Jaidyn has Rett Syndrome, which has robbed her of speech and the ability to control her left hand, along with so many other things. We are grateful that she can walk since at least 50% of all Rett girls don't have that ability.  Jaidyn works incredibly hard every single day to do little things we all take for granted…and she still has a smile on her lovely face that can light up the room!
Scarlett Grace has had her own battles since birth. In the first 6 months of life, she's had to endure 4 surgeries to correct medical issues and yet she too manages to have a beautiful smile for those who are fortunate to get to spend time with her. She's had to work harder than most babies do to reach milestones, but she's catching up by leaps and bounds for which we are thankful.
So in honor of these two incredible girls, today's post is a celebration of their beautiful smiles despite what life has thrown at them!
In addition to photos of their birthday cakes, I have included our most favorite frosting and filling recipes towards the bottom. Enjoy!
Jaidyn's Butterfly Birthday Cake
Jaidyn chose chocolate cake which I layered with white chocolate buttercream mixed with crushed Oreos. Most of the decorations are fondant cut with cookie cutters or hand formed (think edible playdough!), and the 13 is gumpaste which dries super hard. I used royal icing to pipe the details on the butterflies.
I used my Ultimate Fluffy Buttercream to pipe the clouds and added a sprinkle of Disco Dust for some sparkle.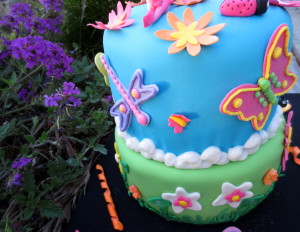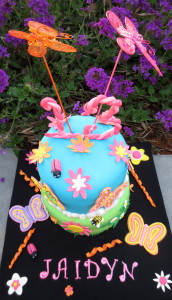 We found the wire butterflies at Hobby Lobby. To keep the cake safe I washed the stems then inserted clean plastic straws into the cake and placed the butterfly stems into the straws.
Scarlett's Pink Hippopotamus Birthday Cake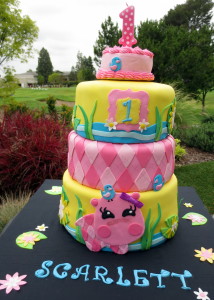 Scarlett's mom and dad chose a hippo theme for her party because hippos are her favorite zoo animal and makes her giggle and smile whenever she gets to visit them! And amazon.com has the cutest pink hippo party plates which inspired the cake (and which I forgot to take photos of).
Scarlett's smash cake and the bottom tier was vanilla cake with white chocolate buttercream filling. The middle tiers were chocolate cake with white chocolate buttercream mixed with Oreos for the filling.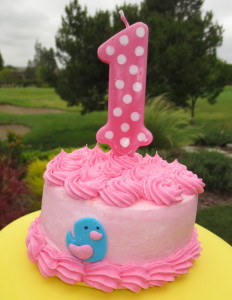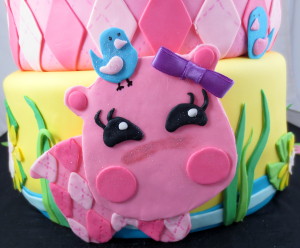 I made the pink hippo from gumpaste so they could keep it if they wanted, and used edible markers for the stitching.  The remaining decorations were made with fondant. I like the Fondarific brand of fondant in wedding white because it stays soft and pliable and tints more accurately than some of the other yellow whites on the market.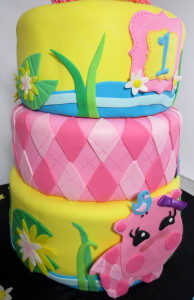 I was able to cut the diamonds and make the flowers and lilypads a couple weeks ahead of time, then wrap tightly in plastic and store. They were still fresh and pliable when it was time to decorate.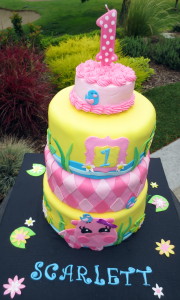 A special thanks to Bake My Day for posting their pink hippo cake on Pinterest and inspiring me by its cuteness.
Ultimate Fluffy Frosting
Ingredients
2 pounds confectioners' sugar
1/2 teaspoon salt
2 teaspoons vanilla extract or 3/4 teaspoon Fiori di Sicilia* (a citrus, vanilla flavoring – our absolute favorite!)
3/4 cup boiling water
1 cup (8 ounces, 227 grams) slightly chilled butter, cut into 1-inch pieces
2-1/2 cups (15 ounces, 428 grams) vegetable shortening (hi-ratio shortening works best especially if you're going to tint the icing**)
(For a dairy-free version, you can use 3-1/2 cups of vegetable shortening and omit the butter.)
Instructions:
In a bowl of a standing electric mixer, fitted with the whisk attachment, add together the sugar, salt, vanilla and boiling water.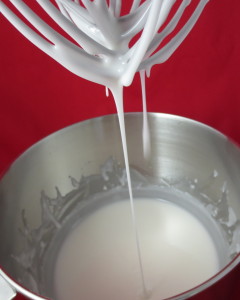 Whip until mixture cools, about 10 minutes on medium low speed. It's important that it reaches room temperature!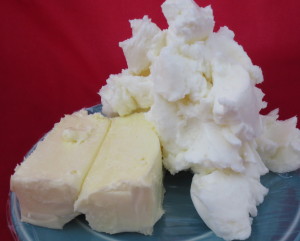 Gradually add the butter and when it's fully incorporated gradually add the vegetable shortening.
Mixture will look lumpy but that's normal.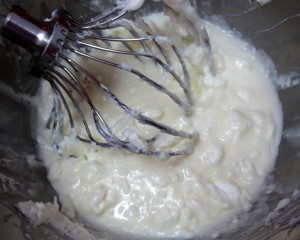 Increase speed to medium-high and whip until light and fluffy (about 15 minutes). It's important to whip it at least a minimum of 10 minutes, so set a timer.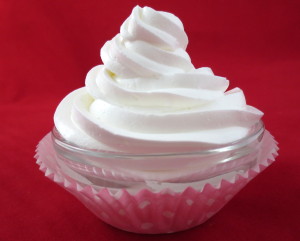 Yield:  12 cups, enough to frost and fill two 9" layer cakes or 5 dozen cupcakes.
Buttercream Icing can be stored in the refrigerator up to 1 week, or frozen up to 6 months if stored in freezer safe ziplock bags.  To use after freezing:  defrost overnight in refrigerator then bring to room temperature for an hour or two before using. Whip for several minutes until fluffy then proceed with frosting your project.
Tips:
*If you are going to freeze the extra icing to use on future projects, use vanilla extract then freeze. Add Fiori di Sicilia after defrosting when you rewhip the buttercream. I've used the citrus flavoring before then decided it didn't work quite right when I needed to frost a chocolate cake later on.
** If you use grocery store vegetable shortening, make sure to use oil based Candy food coloring.  You can generally find at Joann's, Michael's or Hobby Lobby.
When I measure out the butter and vegetable shortening, I line a plate with plastic wrap to make for easy clean up.
I like to store the extra buttercream in 3-cup increments to use for a dozen "impromptu" cupcakes. 3 cups will fit into a quart ziplock bag, then store the quart-sized bags in a freezer safe gallon-sized bag before freezing.

This frosting is best used for cupcakes and 2-layer, single tier cakes. Larger and heavier stacked cakes need a more structured frosting, such as my white chocolate buttercream.
Ultimate Fluffy Buttercream Frosting may seem like a lot of work and steps, but it's mostly hands off work. And since it makes so much extra that can be easily frozen for future use, it is a worthwhile endeavor.
One of the many reasons I love this frosting is that it's not overly sweet and it doesn't send confectioner's sugar flying all over the kitchen.
White Chocolate Buttercream & Filling
Ingredients
6 ounces premium white chocolate (don't use white chocolate chips or candy coating)
1/3 cup Half & Half plus up to 3 tablespoons more as needed
1 cup unsalted butter, room temperature
2 pounds confectioner's sugar
1 teaspoon salt
2 teaspoons vanilla extract
Instructions
Microwave the white chocolate in a heat proof dish (I like a glass measuring cup for this) for 30 seconds. Remove and stir, then return to microwave. Heat an additional 15 seconds, then stir again. Repeat until chocolate is melted, but use care in making sure you don't overheat.
Let chocolate cool to room temperature, about 20 minutes, while you collect the remaining ingredients.
Whisk the salt and vanilla into the 1/3 cup Half & Half.
In the bowl of a standing mixer fitted with either a whisk or this beater blade, beat the butter until creamy, about 2 minutes.
Gradually add approximately 1/3 of the sugar. When it's incorporated add 1/3 of the Half & Half mixture and beat.
Repeat alternating with the confectioner's sugar and the milk mixture until all is fully incorporated, scraping down the sides of the bowl as needed.
When frosting is blended and creamy, slowly add in the room temperature white chocolate and whisk in the mixer until light and  fluffy.
Add additional Half & Half as needed, until desired consistency is reached.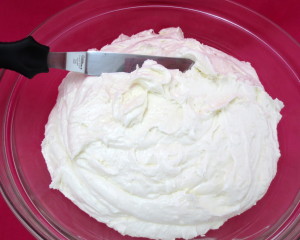 This makes about 6 cups.
Tips:
To make Cookies & Cream filling for a cake, remove 2 cups and add in as many crushed Oreo's as you wish. Spread between the cake layers, then finish frosting cake with the remaining buttercream.


This frosting tints beautifully using gel food coloring.

This is a stiffer, crusting buttercream so it works perfectly for cakes that need more structure.
Cake Tips
I'll be honest, I ended up using boxed cake mixes for these cakes for a couple reasons: when you're stacking several large cakes, boxed mixes have the stability needed to hold up the weight plus mixes are super quick and easy. However, I do "doctor" the mixes to add layers of flavor. Here are some ideas to make the mixes taste more homemade:
Use whole milk instead of water and add a couple teaspoons of vanilla or other complimentary extract. I often use Fiori di Sicilia when making any white or vanilla mix.
Before adding the filling, brush the layers with a simple syrup flavored with vanilla. To make simple syrup mix 1/4 cup granulated sugar and 1/4 water in a heat-proof dish. Heat in the microwave for 2 minutes then stir until sugar is completely dissolved. Add 2 teaspoons vanilla extract then brush over the cake layers using a silicon pastry brush.
Use generous amounts of flavorful homemade frosting and filling, such as my recipes above, and then it's up to you whether or not to confess you've used a boxed mix for your creations!