With the beginning of March comes the promise of spring, which I'm sure everyone living in the Midwest or on the East Coast is fervently praying for.  And as spring arrives, so do light and refreshing desserts.  I was lucky enough to have a friend share a huge bag of lemons, picked fresh straight from her tree.  Even though there are so many yummy lemon desserts to choose from, my first and foremost go to dessert is lemon bars.  So many contrasts of tastes and textures in one little bite…. cool, almost creamy filling that is sweet yet tart, powdery sugar that coats your mouth (but beware of accidentally inhaling!) and a crunchy buttery crust.  And even if spring is delayed a bit more these lemon bars will help you feel like there's warm sunshine right there in your kitchen!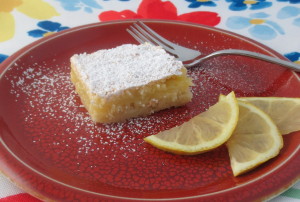 Sweet-Tart Lemon Bars
Ingredients
Crust
1 cup butter, cool temperature, or vegan buttery sticks such as Earth Balance
2 cups all-purpose flour, scooped and leveled
1/2 cup confectioner's sugar
Filling
2 cups granulated sugar
1/4 cup all-purpose flour
4 eggs, room temperature
1 teaspoon baking powder
6 tablespoons fresh lemon juice
1 teaspoon grated lemon peel
1/4 teaspoon lemon oil, optional
Extra confectioner's sugar for garnish
Instructions
Crust
Preheat oven to 350 degrees.
Pulse the flour and confectioner's sugar together in the bowl of a food processor.
Cut the butter (or margarine) into small pieces and place on top of the flour mixture.
Pulse about 10 – 15 times until butter is mixed into the flour.
Pour mixture into a 9"x13" baking dish coated with cooking spray, and compress dough until it forms a crust covering the bottom of the dish and going a quarter of the way up the sides of the dish.
Bake 15 minutes, then remove from oven and immediately pour filling mixture over hot crust.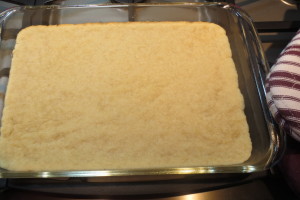 Filling
While the crust bakes, with an electric mixer beat eggs, sugar, flour, baking soda, lemon juice and lemon oil (if using) together until fluffy, approximately three minutes on high speed.
Stir the grated lemon peel in by hand.
Pour filling mixture over hot crust and bake 25 minutes at 350 degrees.  The top should be golden brown.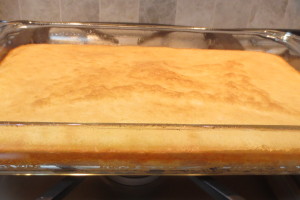 Remove from oven and cool on a wire rack.
Once completely cool, dust with confectioner's sugar and cut into squares.
Tip
Use a fine mesh strainer to dust the top of the lemon bars with confectioner's sugar or if you like gadgets, this

fine mesh shaker

works great for both confectioner's sugar and flour.
If you find you have too many lemons to know how to use all at once, juice and zest them, then freeze in tablespoon increments using an ice cube tray.  Or you can freeze in freezer safe ziplock bags in 1/4 cup and 1/2 cup increments.  When a recipe calls for lemon juice defrost in microwave and strain out zest if unneeded.
When zesting lemons (or any citrus) make sure to use only the skin and not any of the bitter white pith.  A rasp style grater works best.