As Easter approaches, light refreshing treats for the brunch table have been on my mind.  Anything lemon fits that requirement so when a dear friend sent me the Starbuck's Copycat lemon bread recipe (you know the one flooding Pinterest and Facebook) I thought I'd found a winner.  Well….three tries later I threw in the towel.  Don't get me wrong, it was tasty and super moist (from all the vegetable oil it called for) but the middle collapsed drastically every single time.  I tried every trick in the book to fix that problem but it was still a no go.
I searched for other recipes and then worked on creating a new lemon bread recipe so that even my dairy-free husband can enjoy all that Easter's bounty has to offer. I think it's every bit as good as the copycat version!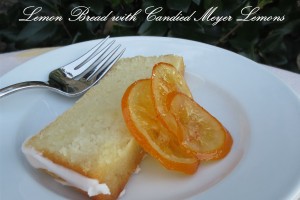 Lemon Bread with Candied Meyer Lemons
Ingredients
Bread
6 tablespoons butter or vegan buttery sticks such as Earth Balance
1 cup granulated sugar
2 large eggs, room temperature
1/4 cup fresh lemon juice
3/4 cup buttermilk or coconut milk with 1 teaspoon apple cider vinegar mixed in
1 teaspoon grated lemon zest
2 cups (10 ounces) all-purpose flour
1 teaspoon baking powder
1/2 teaspoon salt
Lemon Glaze
3 tablespoons fresh lemon juice
1/3 cup granulated sugar
Icing
1 cup confectioner's sugar
2 tablespoons fresh lemon juice
Instructions
Bread
Preheat oven to 350 degrees.
In a medium-sized mixing bowl, whisk flour, baking powder and salt together.
In a small-sized bowl, mix the buttermilk (or coconut milk with vinegar) together with the lemon juice and lemon zest.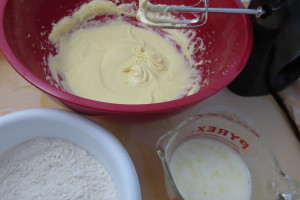 In a large-sized mixing bowl cream the butter and sugar until light and fluffy, approximately 3 minutes.
Add about 1/3 of the flour mixture to the creamed butter and sugar, beating lightly to incorporate.
Add about 1/3 of the buttermilk mixture (or coconut milk) and mix lightly.Repeat until all the flour and milk mixtures have been incorporated. (Mix just enough to incorporate and don't over mix.)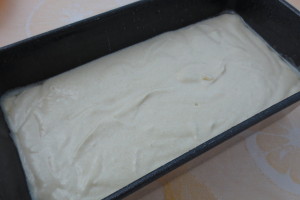 Pour batter into a greased 8-1/2 x 4-1/2 inch loaf pan.
Bake in the preheated oven for 45 – 50 minutes. A wooden skewer inserted into the middle of the bread should come out clean.
Remove bread from oven and poke holes all over the top with a wooden skewer. Your holes should go almost all the way to the bottom of the pan.
Lemon Glaze
Heat the lemon juice and sugar in the microwave 30 – 45 seconds.
Stir to dissolve the sugar then immediately pour over the hot bread.
Pour slowly to allow time for the glaze to soak into the bread.
Allow the bread to cool in the pan for fifteen minutes, then invert onto a serving dish.
Let the bread completely cool then prepare the icing.
Icing
Mix the confectioner's sugar with 2 tablespoons fresh lemon juice.
Whisk until completely smooth.
Drizzle over cooled bread.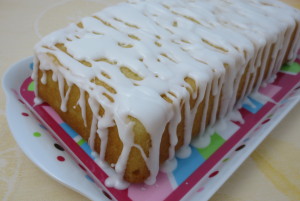 Slice, garnish with candied lemon slices and enjoy!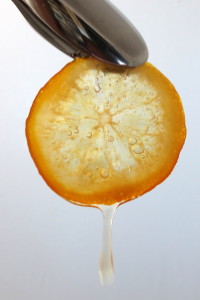 Candied Meyer Lemons
Ingredients
2 Meyer Lemons
1 cup granulated sugar
1 cup water
Ice water
Instructions
Bring a pot of water to boil.
Thinly slice lemons and remove seed.
Add lemon slices to the boiling water and simmer for five minutes.
Place 3 cups of water in a medium-sized bowl and add 1 cup ice cubes.
Remove lemon slices from boiling water and plunge into the ice water bath for 2 minutes.
Strain water off and pat lemons dry.
In a large skillet combine the sugar and 1 cup water.
Bring to a simmer and stir until sugar is completely dissolved.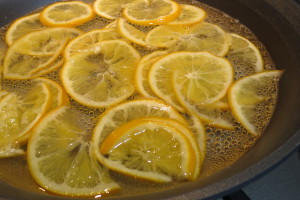 Add lemon slices and simmer for an hour, rearranging slices so they don't overlap.
Removed candied lemon slices from the skillet and cool completely on a wire rack.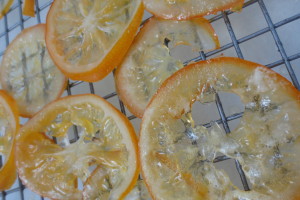 Candied lemons should be kept refrigerated for up to one month, or wrapped individually in plastic wrap, placed in a freezer-safe ziplock bag and frozen for up to 3 months.
Lemon sugar syrup can be used to sweeten iced tea or glaze baked goods if desired.
Recipes inspired by King Arthur Flour and She Wears Many Hats