On one of my afternoon walks I came across the little Orange County library in my town. As luck of the Irish would have it, I had my reading glasses with me so decided to take a break and browse the shelves in search of a new author. A Catered St. Patrick's Day by Isis Crawford caught my eye for a couple of reasons: I'm of Irish decent (McMahan is my maiden name) and right on the cover announced in nice big letters "A Mystery with Recipes".  My favorite kind of book!
Libby and Bernie Simmons are sisters and own a catering shop.  When not baking up delicious treats they help their retired Chief of Police dad, Sean, with his private investigation business.  Right before St. Patrick's Day festivities, Bernie's boyfriend, Brandon, discovers a dead body floating in a keg of green beer behind the bar that he manages. As Libby and Bernie find out, there are a lot of people who wanted Mike Sweeney dead and it doesn't take long for the police to focus their attention on the Simmons sisters' largest catering customer's nephew.  Their client insists that Libby and Bernie clear her nephew's name or risk losing her business which would jeopardize their shop.
A Catered St. Patrick's Day was a lighthearted read with reference to many yummy treats.  The recipes that she chose to publish with the book weren't really a part of the story, but they all sounded equally delicious.  I just wish she had included a few more recipes of the cookies Libby and Bernie were always sharing!  I chose to create my own Grasshopper Brownie Bars and from the comments that I received from my taste testers (thank you to my granddaughter, her dance friends and their moms for your input!!!!) this will become a St. Patrick's Day tradition!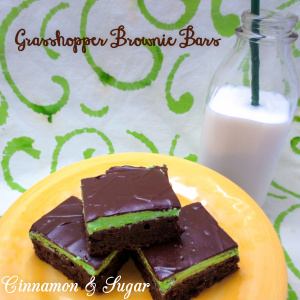 Grasshopper Brownie Bars
Ingredients
Brownies
2 cups (12 ounces) semisweet chocolate chips
1/2 cup (1 stick) unsalted butter
3/4 cup brown sugar
3/4 cup white granulated sugar
4 eggs, room temperature
1 teaspoon vanilla
5 drops food grade peppermint oil**  or 1 teaspoon peppermint extract
1/2 teaspoon salt
1 cup (5 ounces) flour (scoop and level method)
Icing
1/2 cup (1 stick) unsalted butter, room temperature
2 cups confectioner's sugar
1 teaspoon vanilla
1/4 teaspoon salt
1 tablespoon milk (2% or whole)
4 drops food grade peppermint oil**  or 1/2 teaspoon peppermint extract
Green food coloring (I used AmeriColor Mint Green Soft Gel Paste)
Chocolate Glaze
1 cup (6 ounces) semisweet chocolate chips
5 tablespoons butter
Instructions
Brownies
Preheat oven to 325 degrees
Spray a 9" x 13" baking pan with cooking spray such as PAM. If you are planning to serve the bars from your baking dish then proceed from here. If you prefer to have your brownies served from a platter, line your baking dish with foil both long ways and short ways, making a foil sling to easily lift cooled brownies out of dish. Spray foil with PAM.
Over the lowest heat possible, warm the semisweet chocolate chips and butter together, stirring constantly. When the chips begin to melt, remove from heat and continue to stir to finish melting until no lumps are left. Don't overheat or the chocolate will turn into a lumpy mess.
Once chocolate is melted stir in the brown sugar and white granulated sugar and whisk until smooth. Set aside.
While chocolate mixture cools, whisk the four eggs together with salt, vanilla and peppermint oil in a medium sized bowl.
Add a tablespoon of warm chocolate mixture to the eggs and whisk to incorporate. Repeat two or three more times until egg mixture feels slightly warm. (This is called tempering and will help keep your eggs from scrambling if the chocolate mixture is too hot.)
Slowly pour egg mixture into the remaining chocolate and butter mixture whisking briskly to incorporate together.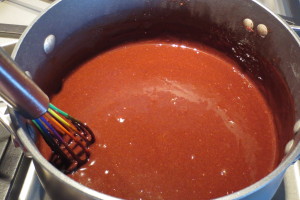 When the mixture is smooth, stir in the flour.
Once incorporated, pour the batter into the prepared pan and bake for 40 – 43 minutes or until wooden skewer inserted into middle of brownies comes out barely clean. You don't want to overcook these so a little bit of brownie clinging to the skewer is okay.
Remove pan from oven and cool completely before proceeding with the icing.
Icing
With an electric or stand mixer, cream the butter, confectioner's sugar and salt together approximately 3 minutes.
In a small bowl, mix milk, vanilla and peppermint oil together then slowly add to the butter mixture.
Beat until creamy. Add additional milk if needed, 1/2 teaspoon at a time, until icing reaches a smooth and fluffy consistency.
Add green food coloring a bit at a time until the icing reaches your desired shade of green. I used about 10 drops of the mint green color.
If you are going to serve your brownies on a platter, now is the time to remove them from the pan before icing. Grasp the edges of the foil sling and carefully lift brownies and place on a hard portable surface, such as a cookie sheet.
Spread the green icing over cooled brownies and place in the refrigerator for at least 30 minutes before proceeding with chocolate glaze.
Chocolate Glaze
Place butter in a microwave safe dish, cover with lid or paper towel and heat for 30 seconds on high power.
Pour chocolate chips into hot butter, stir to distribute butter and heat 30 seconds.
Remove dish from microwave and stir chocolate chips.
Heat an additional 20 seconds, remove and vigorously stir. If needed, repeat heating in 20 second increments, stirring each time, until chips are melted.
Don't overheat otherwise chocolate will seize and become a lumpy mess.
Remove iced brownies from refrigerator and spread the chocolate glaze over the green icing.
Return brownies to refrigerator and let glaze firm up at least 30 minutes before cutting into squares.
Makes 20 -24 pieces.
** I use peppermint oil instead of extract because I often flavor chocolate. Extract contains water which will cause chocolate to seize up, while oil incorporates perfectly.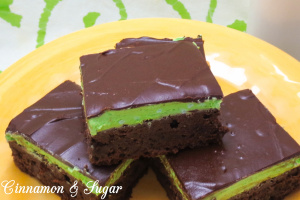 Recipe inspired by A Catered St. Patrick's Day by Isis Crawford.