Ahhhhh…. vacation in Hawaii, the land of Aloha!  And I'm fortunate enough to be spending ten days in this tropical paradise!  Gorgeous beaches, hot sun and sand, friendly people….and so many delectable delights….pineapple, coconut and macadamia nuts to name a few.  It seemed only natural to take some of the yummy ingredients Hawaii has to offer and put them together in a dessert meant to be shared with family and friends in the aloha spirit.  I've made my Aloha Tiki Treats recipe easy (and adaptable for gluten-free and vegan individuals), so that you can quickly get back to your own bit of paradise!
Aloha Tiki Treats
1 cup graham cracker crumbs (substitute your favorite gluten-free and/or vegan brand – I used Kinnikinnick gluten-free brand)
1/2 teaspoon salt
1-1/2 cup mini marshmallows
3/4 cup white chocolate chips (substitute vegan and/or gluten-free brand – I used King David Kosher brand)
1/4 – 1/3 cup coarsely chopped Macadamia nuts (measure after chopping)
1/2 cup dried pineapple, cut into small pieces (I used 2 pineapple rings)
1/2 cup sweetened flaked coconut
1/2 stick (2 ounces) butter, melted (substitute vegan buttery sticks – I used Earth Balance brand)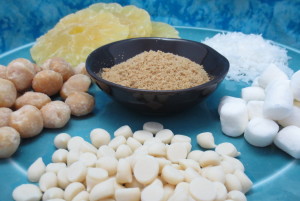 Instructions
Preheat oven to 350 degrees
Coat an 8×8 square glass baking dish with nonstick cooking spray.
Press the graham cracker crumbs into the bottom of the baking dish. Layer the remaining ingredients in this order: marshmallows, white chocolate chips, macadamia nuts, pineapple and top with coconut.
Place the butter and salt in a microwave safe measuring cup and cover with a paper towel. Heat on high for one minute, stirring at the 30-second mark. If needed, heat in additional 10-second intervals until butter is melted and salt is dissolved.
Evenly distribute the butter over the layers of yumminess and gently press down on the ingredients with the back of the spoon. You don't need to compact it too much, just a bit.
Place the baking dish on the middle rack of your 350 degree preheated oven. Bake for 15 to 18 minutes. The edges of the coconut and crust should turn toasty brown (but not dark) and the marshmallows should get gooey and bubbly.
Remove from oven and completely cool before cutting into 12 pieces. Recipe can easily be doubled and baked in a 13″x9″ casserole dish.
Tips
To easily "chop" Macadamia nuts, place in a ziplock bag and crush with the flat side of a mallet until nuts reach desired size.