Numerous years ago (too many to keep track of!) I was looking for a new mystery author to read.  I was visiting my dear cousin, Mary, and she introduced me to the series Joanne Fluke writes:  Hannah Swensen Mysteries with Recipes.  The first one I read was Chocolate Chip Cookie Murder… a not too scary murder mystery with yummy recipes… I was hooked!  I recently found one in her series that I had somehow overlooked and immediately snatched it up.  Carrot Cake Murder did not disappoint!
Carrot Cake Murder (as in all of the series) revolves around Hannah Swensen, owner of The Cookie Jar bakery.  Hannah and her partner Lisa are always dreaming up new cookie recipes which they share in the book, along with other family recipes.  In between mixing and baking sweets, Hannah finds the body of Lisa's murdered uncle, with her famous carrot cake nearby.  Hannah has developed a reputation for solving murders and she enlists the help of her partner and her sisters to find the killer before he or she strikes again.
One of the recipes in Carrot Cake Murder is Rocky Road Bar Cookies, which is quite a bit like S'mores. Using the Cookie Jar's recipe for inspiration I adapted it so that both I and my husband could eat it.  Not only is this a super quick and easy recipe, it can also be made gluten-free AND dairy-free!  If you don't have any dietary restrictions it's very easy to use ingredients you probably already have in your pantry.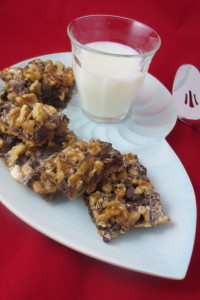 Rocky Road Cookie Bars
1 cup graham cracker crumbs – either Honey Maid

or

gluten-free graham cracker crumbs such as Kinnikinnick brand
1/4 teaspoon salt
1-1/4 cup mini marshmallows
3/4 cup chocolate chips (milk, semi-sweet or dark)

or

gluten-free, vegan chocolate chips such as  Enjoy Life brand
1/2 cup walnuts (or your favorite nut)
1/2 stick (2 ounces) butter

or

 Vegan buttery sticks such as Earth Balance brand
1/4 cup brown sugar
Preheat oven to 350 degrees
Coat an 8×8 square glass baking dish with nonstick cooking spray.
Mix the graham cracker crumbs with the salt and press into the bottom of the baking dish. Layer the marshmallows on top of the graham cracker crumbs (you can use a bit more if you need to fill in any blank areas on the crumbs.) Sprinkle your choice of chocolate chips over the marshmallows then top with your choice of nuts. My favorite nut happens to be walnuts followed closely by pecans.
Place the butter and brown sugar (it's okay if the sugar is hard and lumpy) in a microwave safe measuring cup and cover with a paper towel. Heat on high for one minute, stirring at the 30 second mark. Heat in additional 20 second intervals until brown sugar is dissolved in the butter.
After spooning the butter and sugar mixture over the layers of yumminess, gently press down on the ingredients with the back of a large spoon. You don't need to compact it too much, just a bit.
Place the baking dish on the middle rack of your 350 degree preheated oven. Bake for 12 to 14 minutes. The bits of marshmallows that show should get golden brown, but not dark.
Remove from oven and completely cool. I couldn't wait to try them so I placed my dish in the refrigerator for an hour.
Once completely cool, cut into 12 to 16 pieces and serve. These are very rich. Small pieces are probably better so people won't feel quite so guilty going back for seconds…or thirds….