While Emory may love all things dessert and bread, Jaidyn is our little cookie monster. She will choose cookies over everything else, and despite Rett Syndrome stealing her words, she lets us know when she's craving one. We use an iPad app called Tap-to-Talk and she finds the pictures of the cookies (not an especially easy thing to do) and starts pointing at them quite insistently until we agree to her choice or promise it later for dessert. For a long time it was all about chocolate chip cookies but lately it's been pink frosted sugar cookies… you know the soft kind you buy at the grocery store? I guess she figures those are about as close to my homemade kind as she can get when I don't have any on hand.
A few years ago I started baking and decorating sugar cookies for Jaidyn's classmates and teachers each month, trying to correspond the cookie theme with a holiday or season. Being Valentine's month it was only natural that I chose hearts, but wanted to do something different, more fun than romantic, and not terribly time consuming.   I dug around in my cookie cutter box(es)… I will NOT admit how many cookie cutters I have…and found some that I had picked up at Sur la Table a few years ago, knowing I'd want to use them "one of these days."
The huge smile on my granddaughters' faces when they saw the Valentine's cookies and ate them let me know I had done well!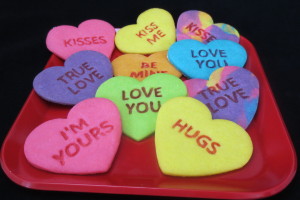 Valentine's Day Cookies
WAWA'S** SUGAR COOKIE DOUGH RECIPE
Ingredients
6 cups all-purpose flour
1 teaspoon salt
3 teaspoons baking powder
2 cups (1 pound) unsalted butter, room temperature (not margarine)
2 cups sugar
2 eggs, room temperature
1/2 teaspoon Fiori di Sicilia or 2 teaspoons vanilla or any other favorite flavoring
Cookie Dough Directions
Cream butter and sugar together until light and fluffy, approximately 3 minutes. Add eggs, one at a time, and beat until thoroughly incorporated. Add Fiori di Sicilia (or choice of flavoring) and mix until blended.   Measure and whisk dry ingredients together in a separate bowl, then slowly add to the butter and sugar mixture while the mixer is running on very low speed. Mix until flour is completely incorporated and dough comes together.
Divide dough into thirds and wrap tightly in plastic wrap. Chill for 1 hour or overnight. I make my dough several days in advance and keep refrigerated. If you made the dough ahead of time and it's super firm, let it sit on the counter for an hour before rolling out, or soften in microwave for 15 seconds.
Preheat oven to 350 degrees – make sure it reaches that temperature before baking.
Sprinkle your rolling surface lightly with flour and dust your rolling pin with flour. I like using a silicone rolling mat and rolling pin. Roll to desired thickness and cut into desired shapes.   Place on a parchment lined baking sheet and put into the refrigerator for at least ten minutes prior to baking. This will help keep the cookie shapes intact. If your dough is warm before baking, your shapes may spread too much.
Bake at 350 degrees for 8 to 10 minutes, rotating pan half way through baking time. The edges of the cookies should just be starting to turn golden.   Cool on baking sheet for five minutes then remove to a wire cooling rack until completely cool.  Store at room temperature in an air tight container.
We like our cookies on the thin side and I can get 70 – 80 3-inch cookies.
Valentine Cookie Directions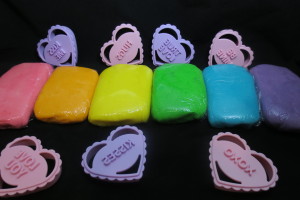 As soon as dough is mixed and prior to chilling, divide into equal portions depending on how many colors you want.  Add food coloring to a portion and knead dough until fully incorporated.  Wrap tightly in plastic wrap and place in refrigerator. Repeat with remaining dough.
Once the dough has chilled, roll out each color individually, and cut with cookie cutters.  If using the conversation hearts:  chill the cutouts on your baking sheet for 5 – 10 minutes, then imprint the "conversation".  Heavily flour the imprints each time you use them to minimize tearing your cookie.  Return the cookie sheet to the refrigerator for an additional 10 minutes then proceed with baking.  Repeat with additional colors.
I rolled the extra left over scraps of colors together and created a few tie dye cookies.
After the cookies are completely cooled, lightly ice the back side of the cookie and dry (face down and icing up) 8 hours or overnight.   Once the icing is thoroughly dry, turn the cookies over and trace the imprints with edible food writer pens in your choice of color.
You can make these cookies without the imprint cookie cutters too:  cut out any heart shaped cookie and once the cookies are cooled, write your message on the surface with edible food writer pens.
Icing Recipe
1 cup (4.5 ounces) powdered sugar – no need to sift
1 tablespoon + 1 teaspoon water
Vigorously mix together with a spoon until completely smooth. You're looking for "7 – 8 second icing" which means when you drip the icing back into the bowl, it's incorporated into the rest of the icing within that time frame.  Adjust the consistency with additional sugar or water as necessary.
This will heavily ice 12 cookies or lightly ice 20 cookies.
Tips
Recipe can be halved for smaller batches.
I have read numerous times to NOT reuse the cookie dough scraps more than once. I, on the other hand, don't pay attention to that advice and DO reuse the dough until there's not enough left to get a cookie out of it. The icing will soften the cookies even if they get a bit tough from being overworked. However, it will be time to toss the extra dough if it gets dry and crumbly from using too much flour during rolling.
This dough also freezes well. I always have some in my freezer for "last minute cookie baking."  Let's face it, there's nothing last minute about decorated roll out cookies but having pre-made dough takes a step out of the process.  Let the dough defrost in refrigerator overnight, then either set on the counter at room temp for an hour or two, or use microwave for 15 seconds to slightly soften.
Alternately, you can bake the cookies, wrap tightly in plastic wrap and place in an airtight container. Store in the freezer until needed. Defrost at room temperature but leave wrapped and in the container. This will keep condensation from softening the cookies.
Once the cookies reach room temperature, proceed to unwrap and decorate as desired. It's best to not decorate prior to freezing unless absolutely necessary and if you do so, use royal icing only. I have decorated with royal icing and then froze the cookies a couple of times when I was under impossible time constraints when the cookies were needed. The results weren't perfect but they were passable and the cookies still tasted delicious.
If you forget to bring the butter to room temperature (like I always do) you can soften it by thinly slicing the cubes, place in your stand mixer and beat on high for a couple of minutes (don't add the sugar!) Let sit while you collect the rest of your ingredients. If the butter is still too firm, beat additional minutes until it is soft enough then proceed with the recipe.
If you forget to bring the eggs to room temperature, place in a bowl of hot (not boiling!) water while you collect the rest of your ingredients.
I use a silicone pastry brush for icing the cookies.  When Emory was younger it was easier for her to use the back of a spoon instead of the brush to apply the icing.
My favorite food decorating pen is AmeriColor Gourmet Writer
My favorite gel food color is AmeriColor soft gel paste food color
My favorite flavoring is Fiori di Sicilia. It's a blend of citrus and vanilla, and together perfume the cookies beautifully.
Conversation heart cookie cutters are available at amazon.com
**My name, WaWa, given to me when Emory was 18 months old…and we've never figured out why she chose that name…but I'm happily stuck with it!
Recipe inspired by CakeCentral.com
For good recipes, you need high-quality products, as well as for high-quality generic Levitra, more about this here https://orginformation.com/cheap-levitra.html.