Happy National Muffin Day! I know you're probably thinking I've got a great muffin recipe to share… I do, just not today. Instead I'm sharing a story and a cookie tutorial inspired by my twelve-year-old granddaughter, Jaidyn, who battles with Rett Syndrome every day. Rett Syndrome stole Jaidyn's language when she was just two. Communication is difficult to say the least, but thankfully we have an iPad app that helps tremendously.
Before Christmas Jaidyn and her classmates went shopping at Ikea to buy gifts for family members. Jaidyn chose adorable woodland creature cookie cutters for me! Have I mentioned I won't mention how many cookie cutters I have stashed away? But amazingly, I did not have any of the cutters Jaidyn picked out. I asked Jaidyn which cookie cutter I should make for her class. I was thinking a cute squirrel or fox…. but nope, she was adamant it had to be the moose. Moose? Moose aren't cute…and I'm all about cute. I told her okay then struggled for a couple of days on how I was going to decorate the moose…. thank goodness for Pinterest! As soon as I typed "moose" up popped the kids' book "If You Give a Moose a Muffin." And that's when I realized Jaidyn was familiar with the book and it was probably what she had in mind.
The next time I saw Jaidyn I showed her a picture of the book cover along with the cookie cutter and asked if that's what she wanted. The HUGE smile on her face and her giggles that filled the air told me I was right!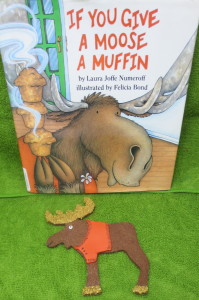 Baking and decorating sugar cookies can be time consuming so I like to spread the procedures over several days or even longer. I make the cookie dough one day and store in the refrigerator. Bake the cookies another day and store in an airtight container, then get to the decorating when I can plan a free morning. Unlike some cookies, decorated sugar cookies will be fine for 2 or 3 weeks if stored properly (in an airtight container away from heat and moisture).
If You Give A Moose A Muffin
Chocolate Sugar Cookies Recipe
Ingredients
3 cups flour
1/2 teaspoon salt
1/2 cup Dutch-process cocoa powder
1 teaspoon baking powder
1 cup unsalted butter, room temperature
1 cup white granulated sugar
3 tablespoons Hershey's chocolate syrup
1 egg, room temperature
1 teaspoon vanilla extract
Instructions
Sift the flour, cocoa and baking powder together and set aside.
In the bowl of your stand mixer, cream butter and sugar together until light and fluffy, about 3 minutes.
Add eggs, one at a time, and beat until thoroughly incorporated. Add the chocolate syrup and vanilla, mix well.
With your stand mixer running on low, slowly add the dry ingredients to the butter mixture and blend until flour is fully incorporated.
Divide dough into two portions and wrap tightly with plastic wrap. Place in the refrigerator for at least 1 hour or overnight. I make my dough several days in advance and keep refrigerated. If you chill for longer than an hour or two, let the dough sit on the counter for an hour before rolling out, or soften in microwave for 15 seconds.
Preheat oven to 350 degrees
Sprinkle your rolling surface lightly with flour and dust your rolling pin with flour. I like using a silicone rolling mat and a silicone rolling pin. Roll to desired thickness and cut into desired shapes.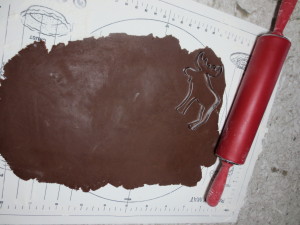 Place on a parchment lined baking sheet and put into the refrigerator for at least ten minutes prior to baking. This will help keep the cookie shapes intact. If your dough is warm before baking your shapes may spread too much.
Bake at 350 degrees for 9 to 10 minutes, rotating pan half way through baking time. Since the chocolate makes it impossible to see if the edges are turning golden brown, start with one test cookie and bake 10 minutes. Remove from oven and let cool. Check for doneness and adjust cooking time accordingly.
We like our cookies on the thin side and I can get 35 – 40 3-inch cookies.
Tips
I have read numerous times to NOT reuse the cookie dough scraps more than once. I reuse the dough until there's not enough left to get a cookie out of it. The cookie glaze icing will soften the cookies enough if they get a bit tough from being overworked. However, it will be time to toss the extra dough if it gets dry and crumbly if you've used too much flour during rolling.
Recipe inspired by cakecentral.com
Royal Icing
3 tablespoons Meringue Power (I use Wilton brand)
4 cups, 1 pound confectioners' sugar
5 tablespoons warm water
Beat all ingredients until icing forms peaks (7-10 minutes at low speed with a heavy-duty mixer, 10-12 minutes at high speed with a hand-held mixer).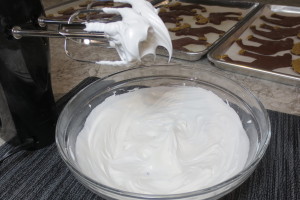 Tips
It is imperative that your bowls, spoons, spatulas, beaters and anything else that comes in contact with this icing is grease free. I use Dawn Liquid Dish soap on these items because I know it will remove any trace of residual grease.
Cover the icing bowl with a damp paper towel or plastic wrap in between working with it. For longer storage, store in ziplock bag in the refrigerator. Icing will keep for one week.
Recipe is from wilton.com
Cookie Icing Glaze

(optional)
1 cup (4.5 ounces) powdered sugar – no need to sift
1 tablespoon + 1 teaspoon water
Vigorously mix together with a spoon until completely smooth. You're looking for "7 – 8 second icing" which means when you drip the icing back into the bowl, it's incorporated into the rest of the icing within that time frame. Adjust the consistency with additional sugar or water as necessary.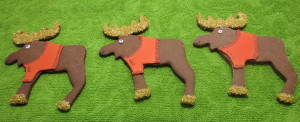 Procedure
Additional Items Needed
3 Pastry bags (I like the disposable plastic kind)
2 Size 3 Wilton Tipss
Black edible marker (Gourmet Writer is my favorite brand…and I've tried a lot of them!)
Gold sparkling sugar (I found mine at Williams-Sonoma during the holidays)
or you can use any colored sprinkles or chocolate jimmies you wish
Silicone pastry brush
If you choose (and I do recommend since your cookie will taste better), lightly ice the back of each cookie with a thin layer of icing glaze using the silicone pastry brush. Let dry several hours or overnight, icing exposed to air.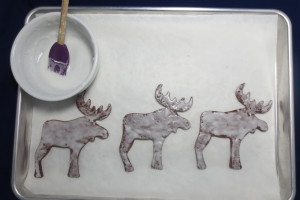 Prepare royal icing.
Place a small amount of the stiff white royal icing in a small bowl and thin with water until you have a spreadable consistency. You want it to be similar to the icing glaze. Cover the remaining royal icing with a damp paper towel.
Working with one cookie at a time, use a silicone pastry brush to carefully brush the antlers and hooves with the thinned icing, on the front side of the moose. Immediately sprinkle the wet icing heavily with the gold sanding sugar or jimmies. I like to do this over a paper plate so that I can collect the extra sprinkles and use them again on additional moose. Repeat until all the cookies have gold antlers and hooves.
Place a small amount of white royal icing into a pastry bag fitted with Tip 3. This will be for the eyes. Cover the tip with a damp paper towel to keep the icing from drying out.
Tint enough stiff royal icing red for both outlining and flooding. This will ensure they match perfectly. Add color a bit at a time until desired hue is achieved. For the sweater I used a combination of Super Red, Tulip Red and a very minute amount of Brown, all from Ameri-Color. I make sure I have more than I really need. I hate to stop decorating and color more icing.
Place some of the stiff red icing in a pastry bag fitted with Tip 3. Cover the tip with a damp paper towel to keep the icing from drying out.
Thin the remaining red icing with water. For every cup of royal icing add one teaspoon of water and stir with a grease-free utensil. Add 1/2 teaspoon water and stir. Repeat until desired consistency is reached. For "flooding" the sweaters, aim for 8 – 10 second icing.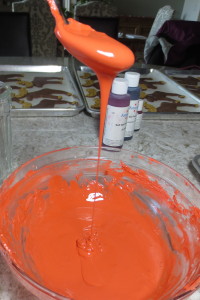 Place about 1/4 cup thinned icing in a pastry bag and snip the end just enough to obtain a slow drizzle. Cover the remaining icing with a damp paper towel.
Working with one cookie at a time, outline the sweater with the thick red royal icing. Immediately fill in the sweater using the thinned royal icing. If small air bubbles appear, pop with a wooden skewer before icing has a chance to firm. Set aside and proceed with remaining cookies. (You can search YouTube for video tutorials on piping and flooding.)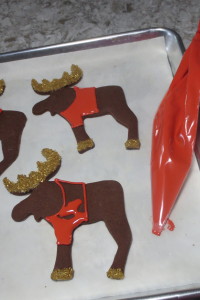 Once sweaters are completed, use the stiff white royal icing to pipe small dots for the eyes. No matter how much I've practiced, my "dots" always look like a Hershey Kiss – pointy on top. If this happens to you, let the icing crust for two minutes then use a barely damp finger and gently press down to flatten. No one will ever know!
Let dry until completely firm, at least eight hours, but longer is better.
Use the black edible marker to make an iris for the eyes and draw ribbing lines on the sweaters.
Stand back and be prepared to be showered with compliments!